Health, safety, environment
07 Jul 2020
Lowering lifeboat risks
Teamwork across functions, with vendors and with partner OceanWorks has led to a new method of testing the Pluto platform's lifeboat which reduces safety risks.
They're supposed to save lives but far too many people have died during lifeboat testing.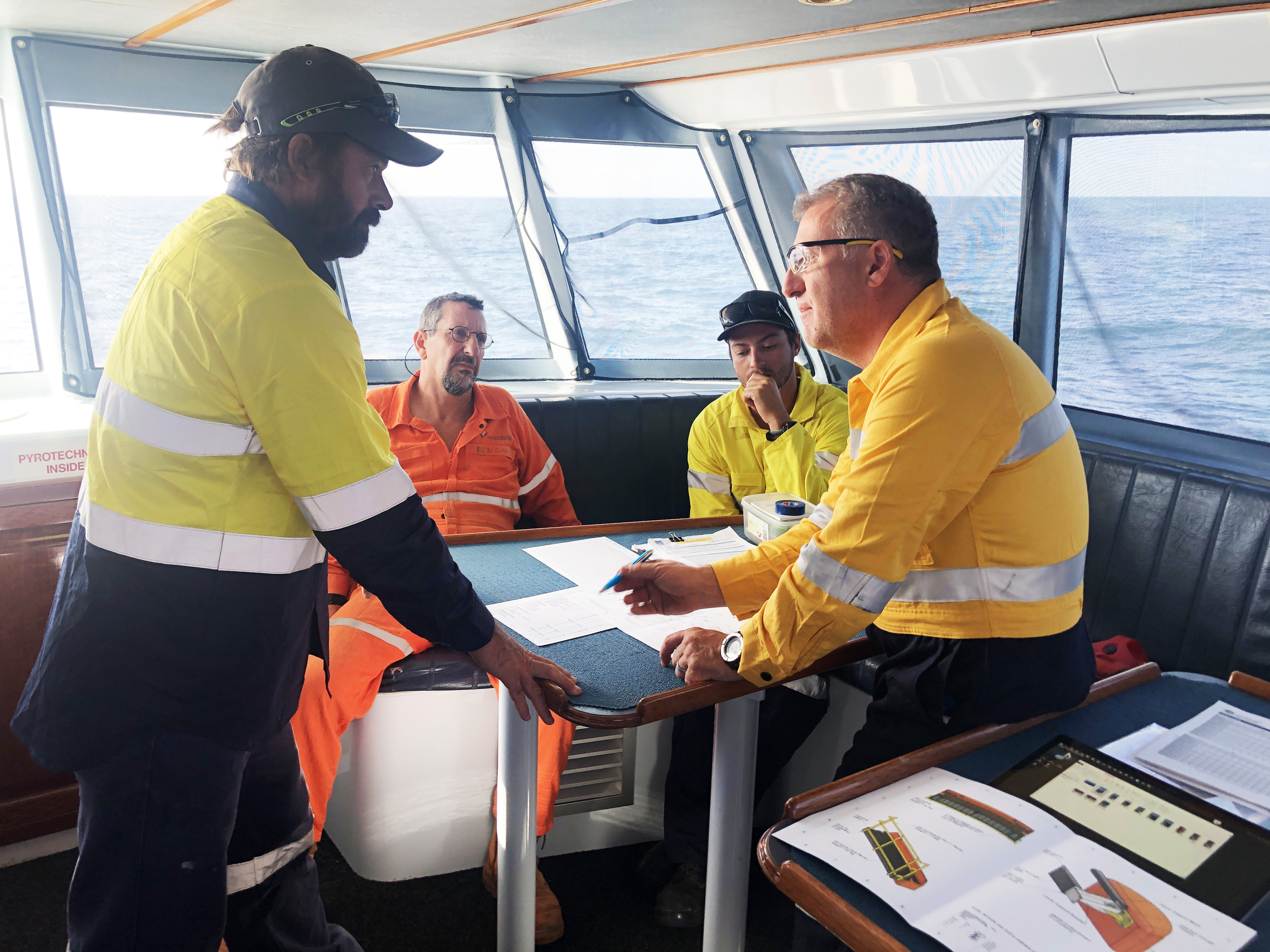 In the decade ending in 2017, the death toll worldwide was 60 and another 145 suffered serious injuries during the routine testing of lifeboats, officially called TEMPSC (totally enclosed motor propelled survival craft).
"These casualties and deaths all occurred during routine testing activities and were a result of a range of factors including human error, equipment failure, lack of maintenance and design weaknesses," explains marine operational authority Mark Aravidis.
Woodside has lifeboats on all marine assets including floating production storage and offloading (FPSO) facilities, vessels and offshore platforms, including the Pluto offshore platform (PLA).
Mark says although Woodside has incurred no serious injuries or deaths during lifeboat testing, there's no room for complacency and a review of our TEMPSC in 2019 found areas for improvement.
Logistics' marine team engaged Technology for support in better understanding the challenges and crafting a solution.
Production technology project team lead Jason Tinsley led a team to assess the challenges on PLA posed by the existing launch and recovery design, which required people to work at some two metres above the water on a moving platform and near to a spreader beam.
Jason, with representatives from marine, Maintenance, Engineering and external vendors, held a workshop with Woodside's partner OceanWorks at the University of Western Australia.
They came away with a clear understanding of what needed to be done and ways to lower the safety risks.
"We came up with a collaborative and innovative design for the TEMPSC rigging, chose a vendor and set about designing a better, safer system of releasing the TEMPSC into the water from PLA and reconnecting it during wet-testing," Jason reports.
"The end result was really very simple.
"We used very light-weight rigging with quick release hooks instead of the shackles previously used and we redesigned the rigging.
"Now the lifeboat can be easily manoeuvred; nobody needs to scramble on top of the lifeboat; and nobody needs to get near a spreader beam which has a considerable weight and therefore poses a significant risk factor.
"We've massively reduced the safety risk."
Mark was on board the support vessel at PLA in February during the TEMPSC annual wet test, and reports that the new launching and recovery system worked according to plan.
He is currently writing a position paper regarding the acceptable methodologies for the wet-testing of lifeboats which will document the ALARP position for all lifeboat testing across the company.
Phil Reid, vice president Health Safety Environment and Quality Operations, says work is underway, led by Safer Together WA/NT Marine Working Group, to achieve an industry-wide solution.
"It was a privilege to see the passion, enthusiasm and commitment in the room during the initial meeting with representatives from operators and contractors," Phil reports.
This team is also connected to similar international organisations, he adds.
Key objectives are to achieve lifeboat functional assurance with no personnel inside lifeboats during testing/maintenance of deployment/recovery systems offshore; and to aspire to eliminate the vessel-to-vessel personnel transfers currently required when
Read the full Q2 2020 issue of Trunkline here.