Bass Strait overview and history
Operated by ExxonMobil, the Bass Strait Project consists of numerous conventional oil and gas fields in the well-established Gippsland Basin off the south-east coast of Victoria, Australia. The project consists of an integrated network of offshore platforms and subsea tie-backs connected via extensive pipeline infrastructure to onshore processing facilities at Longford and Long Island Point.
Bass Strait was Australia's first major offshore oil and gas development and has sold over 8 Tcf of pipeline gas and over 4 billion bbl of oil since first production in 1969. Natural gas production from Bass Strait currently supplies approximately 40% of Australian east coast domestic gas demand and is the largest supplier into the Eastern Australian domestic gas market, which spans Queensland, New South Wales, Victoria, Tasmania, Australian Capital Territory, Northern Territory and South Australia. The asset also produces crude oil and condensate, LPG and ethane which is sold to both domestic and international customers.
Bass Strait retains a portfolio of contingent and prospective opportunities, primarily from deeper, acid gas resources with commercialisation enabled by the Longford Gas Conditioning Plant, commissioned in 2017, which provides acid gas processing capability. Further investment to deliver additional gas between 2023 and 2027 including additional development from the Kipper field and advancing funding decision for the Turrum field were announced in March 2022. Several of the Bass Strait offshore facilities have ceased production following field depletion and an active program of restoration is underway.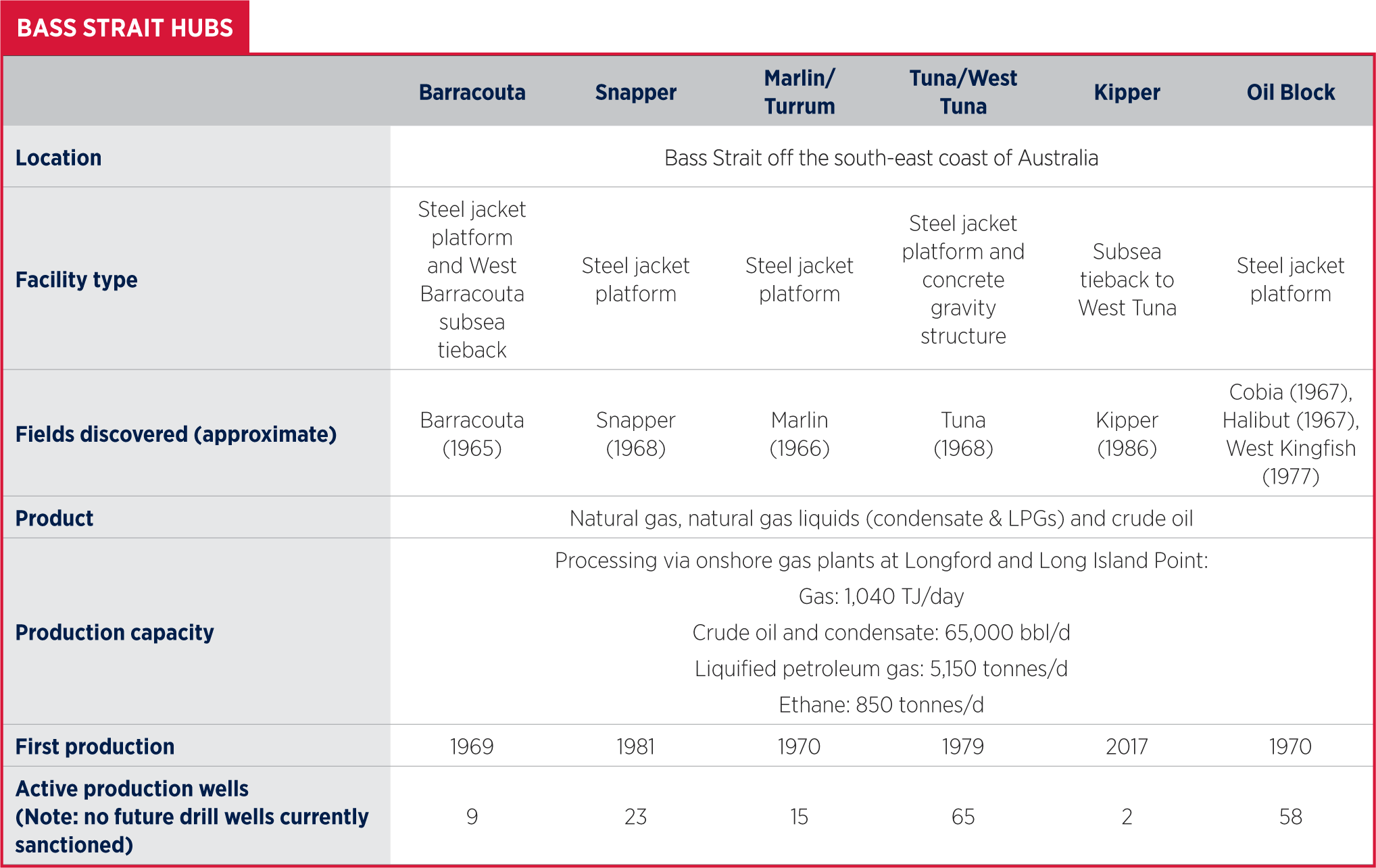 Participating interests
Bass Strait production is primarily from the Gippsland Basin and Kipper Unit Joint Ventures. Kipper Unit production is processed by the Gippsland Basin Joint Venture under a processing agreement.
| Participant | Gippsland Basin Joint Venture1 | Kipper Unit Joint Venture2 |
| --- | --- | --- |
| Woodside | 50% | 32.5% |
| ExxonMobil (operator) | 50% | 32.5% |
| Mitsui | - | 35% |
1 Gippsland Basin fields lie in permits Vic/ L1-L11 and Vic/L13-19
2 Kipper field lies in permits Vic/L9 and Vic/L25