Why Invest with Woodside?
A company committed to optimising shareholder value and returns.
Creating shareholder value through scale, diversity, and resilience
When you invest with Woodside, you're investing in a global energy company with a diversified portfolio in advantaged locations and markets.
Woodside's business model seeks to optimise returns across the value chain by prioritising competitive growth opportunities, utilising our operational, development and technological capabilities, and deepening relationships in energy markets with strong demand growth.
2023 Half-Year Results
Woodside recorded a half-year net profit after tax (NPAT) of US$1.74 billion
Underlying NPAT was US$1.896 billion, up 4% on the corresponding period in 2022, reflecting a full period of results with Woodside's expanded operations portfolio. Operating revenue rose 27% period-on-period to US$7.4 billion.
US$1.7 BILLION

net profit after tax

US$7.4 BILLION

operating revenue

US$1.9 BILLION

underlying net profit after tax

80 US CPS

interim dividend 2022 AT A GLANCE
Optimised value and shareholder returns
In 2022, the merged company delivered record profit driven by our larger, geographically diversified portfolio, and made significant progress on our growth projects.
$6.5 BILLION

net profit after tax for 2022

$16.8 BILLION

operating revenue for 2022

$6.5 BILLION

free cash flow for 2022

253 US CENTS

per share full-year dividend for 2022
A history of strong dividends
With a history of delivering strong returns to shareholders, we have built a track record of success.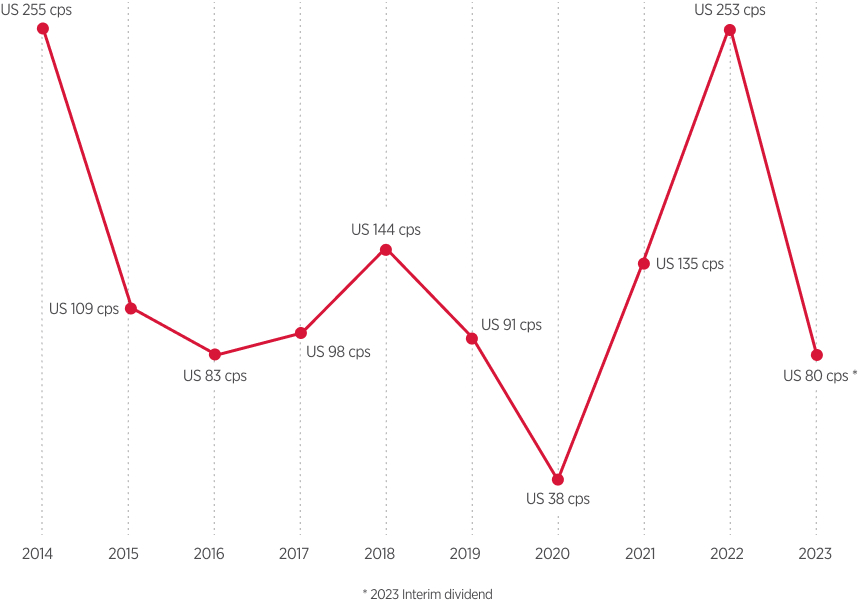 Providing long-term stability and value to our shareholders
At Woodside, our capital management framework provides us with the flexibility to optimise value and shareholder returns delivered from our portfolio of opportunities. Our disciplined and responsible approach to investment ensures we manage financial risks and maintain a strong financial position. By doing so, we are able to maximise the value we deliver to our shareholders.
With a robust capital management framework in place, we're striving to ensure that Woodside remains a resilient and diversified company in the future

We have growth opportunities across our three pillars of oil, gas and new energy
The Scarborough and Pluto Train 2 projects in Australia were approved in November 2021, with first LNG cargo expected in 2026. Work on the Sangomar Field Development commenced in early 2020 and first oil is targeted for mid-2024.
Our new energy opportunities include the proposed hydrogen and ammonia projects H2Perth and H2TAS in Australia and the proposed hydrogen project H2OK in North America.
And our resilient and diversified portfolio will help us thrive through the global energy transition.
Investor enquiries
Phone:
+61 8 9348 4087 AWST
Email:
Mailing Address:
Investor Relations
GPO Box D188
Perth WA 6000
Australia
Computershare Investor Services Pty Limited
Email:
Mailing Address:
GPO Box D182
Perth Western Australia 6840
Australia
Street Address:
221 St Georges Terrace
Perth Western Australia 6000
Australia