Health, safety, environment
28 Jun 2019
Walking to work
Use of a W2W vessel linking workers to an offshore platform during a major maintenance turnaround has reduced the spend, risk and duration of the campaign.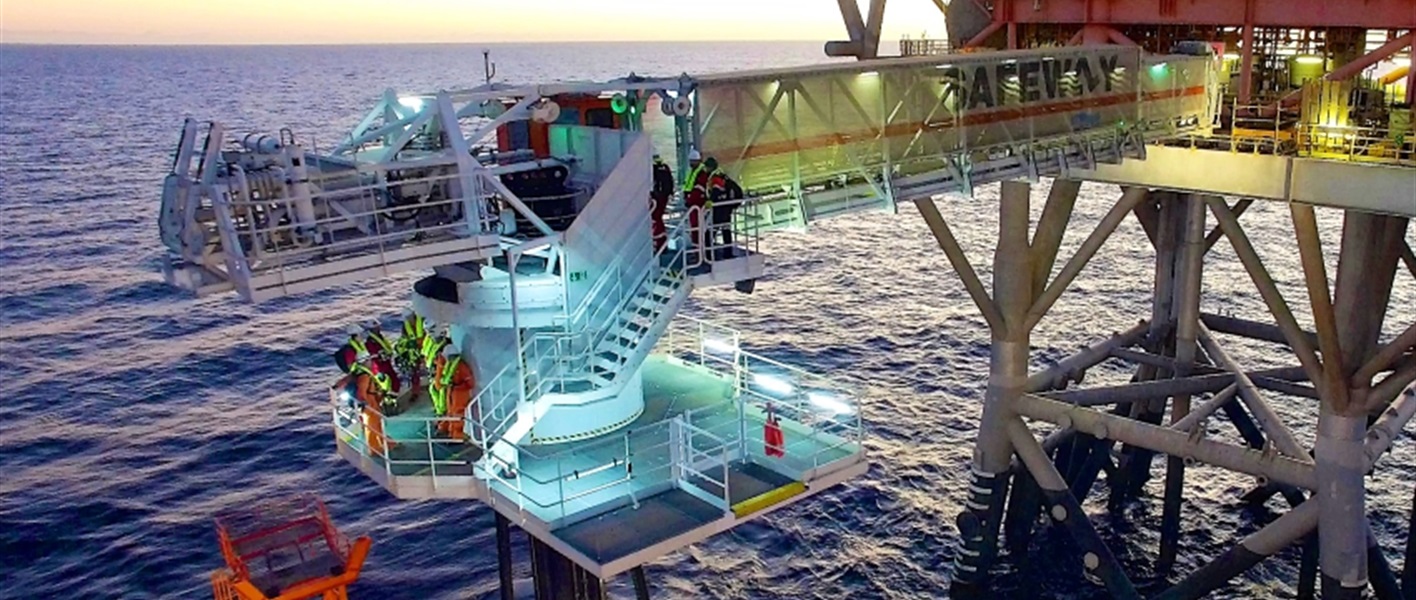 Contracting a new type of vessel helped create hundreds of "extra" working hours for the Pluto Alpha (PLA) offshore turnaround in Q2.
In what is believed to be a first for Australia, a "walk to work" (or W2W) vessel with a Safeway gangway was contracted for the turnaround.
It enabled more people to work on the Pluto Alpha platform and resulted in more than 40 days of work scopes being completed in 27 days.
Transferring people to and from offshore platforms safely and efficiently, and accommodating them close by, is a well-known challenge that comes with risks and hazards.
W2W, which boasts an innovative method of transferring people across the water to offshore platforms and providing accommodation, addresses both issues – and as a consequence, enables more people to work on the platform.
Turnaround excellence manager Russell Probert had experienced the advantages of W2W vessels when employed overseas several years ago by an oil major.
In August 2018 Woodside began investigating use of a W2W vessel for the North Rankin turnaround, scheduled for September this year.
A contractor, MMA Offshore, was selected through an accelerated tender process that sought contractor capability to deploy W2W technology.
But when the amount of work needed and time available for Pluto became apparent, Russell contacted OneMarine.
He says: "I asked, how can we accelerate the Walk to Work initiative for the Pluto turnaround?"
OneMarine worked with Contacting and Procurement (C&P) and MMA Offshore to determine if a W2W vessel could be ready in time.
Woodside and MMA Offshore then collaborated with Safeway in the Netherlands to install a bespoke gangway on the multi-purpose support vessel, MMA Pinnacle.
The MMA Pinnacle has 72 beds for turnaround workers, plus 28 crew, and also featured a workshop, helideck, crane and more.
Russell says the fully overhead covered and weather-proof, telescopic, motion-compensated gangway allowed the maintenance crew safe and direct access to and from the Pluto platform, even with the vessel's pitching and rolling motions.
"It is like an airbridge from an airport terminal to an airliner," he explains.
"The crew was able to literally 'walk to work' and we completed more than 1200 safe personnel transfers and 40 gangway operations in 24 days."
Other benefits of the W2W (such as transferring all the accommodation on to the Pinnacle and the reduction of helicopter flights) also resulted in significant risk elimination and cost savings.
Marine operations manager Ben Small says: "From my perspective, the W2W project embodies everything Woodside aspires to achieve: innovating to find new ways of working, collaborating with our contractor partners and then accelerating the delivery of work to unlock greater value than at any time previously.
"W2W was extremely challenging to execute with Woodside's assets because their height above sea level is so much higher than the average in other regions such as the North Sea."
PLA, for example, is more than 29m above the water.
"That additional vertical height makes compensating for vessel motion so much more difficult," Ben points out.
Offshore team lead engineer Matt Collett says the project went "very, very well", adding: "We managed to meet all expectations, we managed to do it the first time this has been done in Australia, and we've ended up with no accidents or incidents."
Construction manager Angelo Chiappini was seconded into the turnaround team as the Pluto Alpha Single Point of Accountability (SPA). He agrees collaboration was a key to its success.
"Many teams assisted in making this a success and we utilised all parts of the Compass to achieve this," Angelo points out.
"Whenever you work with a first of its kind it brings a lot of challenges to it and also a great satisfaction when you deliver."
He was seconded to lead the offshore project in January, and he notes how tight the schedules were.
Though the Safeway Gangway was made in the Netherlands, it had to transported to Singapore to be installed on to the MMA Pinnacle (which was previously in Malaysia).
In the end, Angelo points out, the MMA Pinnacle arrived at the PLA engineered and assured for use on the day prior to the turnaround.
And while, initially, there were more than 40 days' worth of scopes to be completed in only 27 days, the extra workers enabled by the W2W vessel meant the offshore component of the turnaround finished on schedule.
"The work was executed safely, enabling the PLA turnaround to be a success," says Angelo.
In an increasingly competitive global LNG market, keeping unit cost of production low is imperative to our sustained success as a company.
"Logistics has a key role to play in pursuing these opportunities for value creation, rather than just avoiding value erosion as was historically the case for support functions," Ben points out.
"We asked: does it unlock value for us? Does it work for our organisation? And the answer was a resounding yes."
Ben says the next stage is to take lessons learned and roll them in to future scopes where W2W can add value, starting with the turnaround at North Rankin Complex in September.
"Already the conversations have started for our offshore turnaround in 2020 and beyond, and we think there is some real capability to unlock value there," he says.
Read the full Q2 2019 issue of Trunkline here.