Meg's mission to make a difference
Meet Meg O'Neill, Woodside CEO and Managing Director.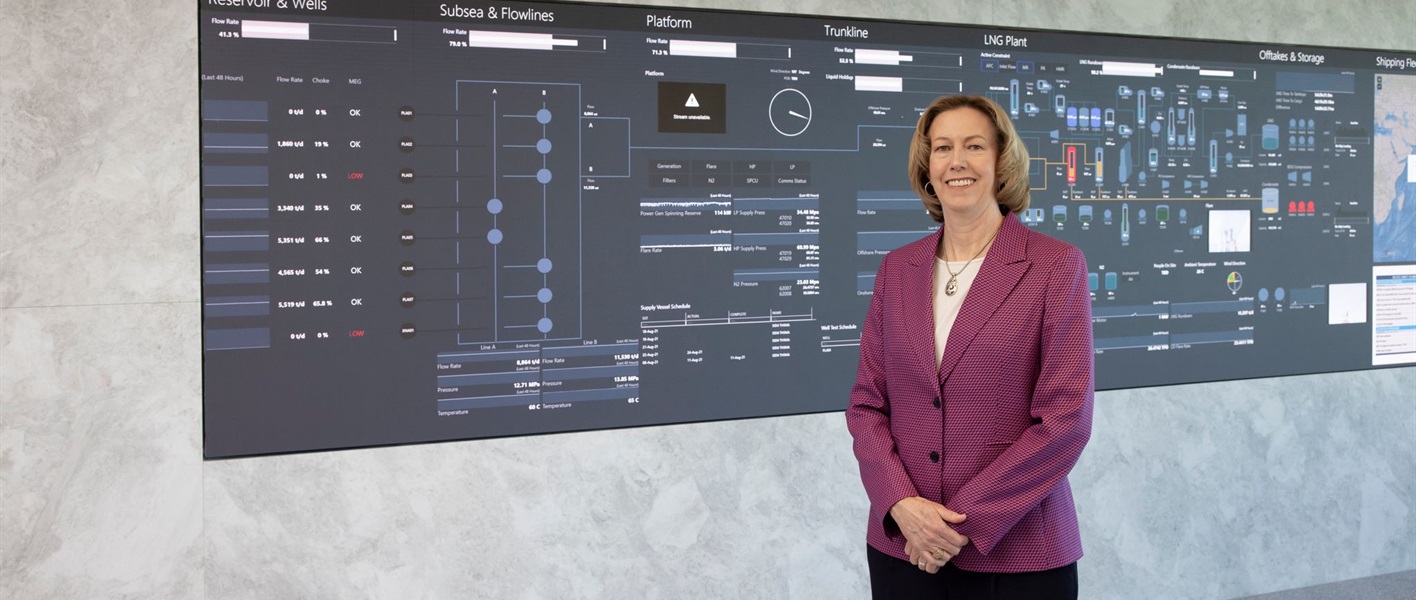 Meg O'Neill is gearing up for a marathon.
But not a 42 km road race. Meg is preparing to pace herself for the challenging and exciting journey ahead as Woodside's new Chief Executive Officer and Managing Director, acknowledging the need to be in good physical and mental shape.
"The workload is pretty variable so there's no hard and fast rules," she replies when asked about the time she needs to invest in her new role, and the importance of work-life balance.
"You have to be adaptable, but you have to recognise that this role is a marathon not a sprint, so you have to make sure you take care of yourself, eat well, get adequate sleep and take some exercise."
She makes sure she does what she says, listing walking, cycling, golf and social netball games as ways she keeps active in her free time.
Then there's cheering on the Fremantle Dockers and West Coast Fever, along with visits to the theatre and concerts and taking in ocean views on walks.
"Perth's lifestyle is hard to top," she enthuses.
"As a city I think Perth is a perfect size – big enough for high-quality sports and arts and theatre, but traffic is not too bad.
"And living right on the coast is fantastic. It's a garden spot in the oil and gas world."
Meg was chatting with Trunkline only days after being confirmed in August as Woodside's CEO and Managing Director – only the sixth in our company's 67-year history.
But having served in the role in an acting capacity since April, she already has several months' experience under her belt and a good feel for what's ahead.
Woodside Chairman Richard Goyder said Meg's impeccable credentials and proven leadership capabilities, exemplified in recent months, "set her apart as the Board's top candidate for the position".
The Chairman added: "Meg is an outstanding executive with 27 years' experience working in the global oil and gas industry, with a proven track record of delivery across the oil and gas value chain, making her the ideal person to lead Woodside as we significantly expand the business in a cost-efficient and sustainable way."
Meg grew up in Boulder, Colorado, with two brothers.
Their father was an electrical engineer-cum-entrepreneur with 20-plus patents to his name, her mother a communications professional.
She enjoyed an outdoors lifestyle and as with most Americans seeking a university education, the impetus was to leave home and experience a new environment. Being raised in landlocked Colorado meant the ocean held a romantic appeal.
Meg was accepted at the prestigious Massachusetts Institute of Technology in Boston and graduated with two degrees (in chemical engineering and ocean engineering) before taking a Master's in ocean systems management.
She then began what became a 23-year career with Exxon (now ExxonMobil) after a recruiter persuaded her that her future lay in designing oil and gas platforms rather than ships or luxury yachts.
She started with Exxon in Houston, Texas, but spent time in New Orleans, Indonesia, Norway and Canada before returning to Texas.
In 2018, Meg made the decision to move to Perth to join Woodside as Chief Operations Officer. Exxon had been a good employer and helped her grow professionally and personally.
Two key factors persuaded her it was time for a change.
"As I moved into Exxon's more senior management, I was feeling more removed from where the business was done," Meg recounts.
"And I wanted to join a company where I could make a difference, both in the business decisions and also in the culture of the company. With a workforce of 72,000 you feel like you can only push things so far. With Woodside's size we have strategic decisions to make and also the opportunity to shape the culture of the team."
Her decision on her very first day as acting chief executive officer to open access for all employees to Level 29 in Woodside's Mia Yellagonga headquarters was a small step but it resonated inside and outside the company.
"Symbols matter," she points out.
"My leadership is one where I really do value those opportunities to interact with people across the company because I recognise that to lead in today's world you've got to be approachable, and we've got to be able to connect as an organisation to enable effective decision making."
But hers is a path of evolution, not revolution.
"Everything I'm doing builds on what my predecessors have done," she continues.
"We can only reach our future destination because of the journey we've been on in the past."
And the future she is pursuing for Woodside is a low cost, lower carbon destination.
Another of Meg's hallmarks is her frequent reference to courage which she wants Woodsiders to demonstrate.
"Courage is important to me," she explains.
"And if we at Woodside look back on our past, there are times when we've absolutely demonstrated that courage.
"Looking forward, we are going to be taking some big decisions and those big decisions need people who are able to proceed with courage.
"It's about everybody in the organisation backing themselves in.
"I think we can have a little bit more courage and we'll have a better workplace.
"People would have more fun – and we'll have better outcomes."
And better outcomes, even if the road is long and at times a little bumpy, is what Meg O'Neill is aiming for.
Read the Q3 2021 edition of Trunkline here.