Graduates and students
20 Jul 2022
Meet a Robotics Engineer
Meet Adam, a Robotics Engineer
A career at Woodside can take you in many different directions. We asked some of our recent graduates to share their story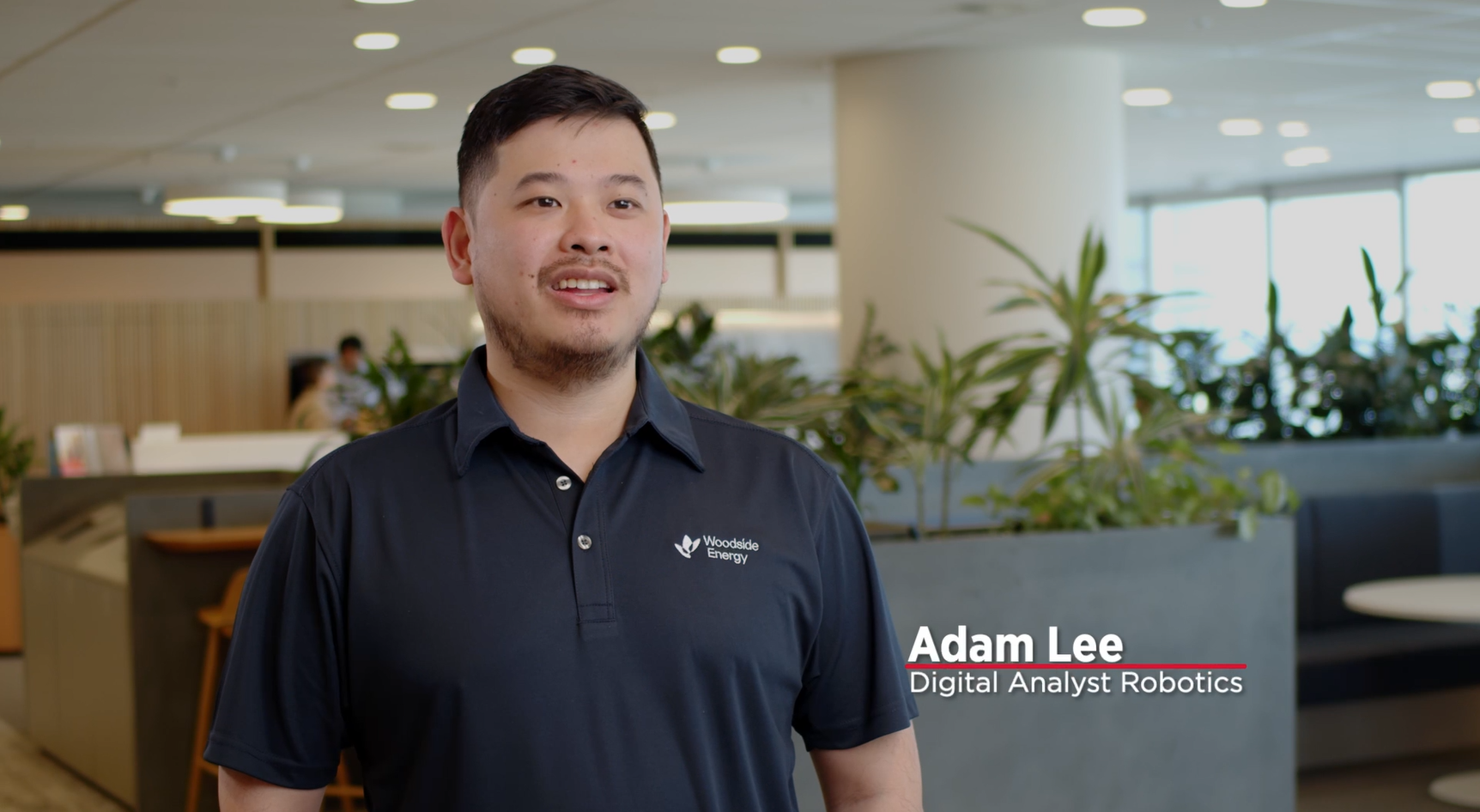 About Adam
Role: Robotics Engineer
University: Curtin University
Degree: Bachelor of Computer Science majoring in Software Engineering
What I do
Our vision in the Woodside Energy Technology Development team is "To deliver a smarter Woodside Energy and global new energy future through robotics and innovative solutions".
I am currently working on a project to deploy autonomous data capture services to our production facilities. My role and responsibility in the team is to design and implement the engineering controls and infrastructure required to productionise robotic platforms on-site and ensure they operate in a safe and efficient state. This involves installing additional sensors on the robot and installing new equipment on-site that allows the robot to enter a safe state if it is no longer safe to operate. I utilise knowledge and experience in Software Engineering, Information Technology and Operational Technology to make this happen.
What is your background?
I am born in Singapore and grew up in Australia. Completing my primary, secondary and tertiary education in Perth. I am a Computer Science graduate from Curtin University majoring in Software Engineering. During my time in University, I went on an international exchange to the Royal Institute of Technology in Stockholm studying Haptic Technology, Cryptography and Computer Graphics. In my capstone year, I joined an industry project researching AI with Thales.
In my penultimate year at University, I joined Woodside Energy as a Summer Vacation Student. Spending the summer in the Cyber Security team. After which, I was offered a place in the Graduate Program. After graduating from University I started the graduate program in the Operational Technology team.
Having been involved with safety and security throughout my professional experience. I have always been excited by new technology and how it can create more efficient and safer environments for us. It was during my time in the Operational Technology team that I first experienced working on-site; after having a hand in building turbine control systems and Safety systems, I realised quickly that I enjoyed building systems in the Operational space that provide increased safety and efficiency. I took an interest in Robotics and Automation use cases on-site and started building more and more of my own capabilities in the Robotics space.
After Operational Technology, I moved into the Enterprise Infrastructure team for one more rotation before joining the Woodside Energy Technology Development team which I have been in since.
Could someone with a different background do your job?
While the specific technical work I am performing requires similar competencies. Robotics as a whole requires a multidisciplinary team. While I manage Software, IT/OT Infrastructure and Cyber Security, the team must also have capability in mechanical and electrical engineering, stakeholder management, user experience and acceptance, customer alignment, and more.
I feel the most important characteristics to have is courage and curiosity.
The courage to dream and envision better ways in which things can work. Courage to challenge the status quo. If we do things how they've always been done, then we will miss out on the opportunity to improve.
The curiosity to learn how things work and the benefits and constraints of doing things that way. Knowledge allows us to be critical when delivering the best solutions to problems.
Courage and curiosity go hand in hand in exploring the cutting edge of technology and applying them to the business.
What are the limitations of your job?
Implementing change is difficult. Technology doesn't live in a vacuum. Without the support and advice from every other part of the business we wouldn't be able to do what we do. I cherish the contacts that I made throughout Woodside Energy and while I was in my other rotations. We achieve so much more together and really; as a whole we are much greater than the sum of our parts.
3 pieces of advice for yourself when you were a student…
One, Have fun and enjoy the ride. Keep on exploring your interests. Learn and get involved with the things you like.
Two, You don't know what you don't know. Be optimistic about new opportunities to go outside your comfort zone. You may learn something new about yourself and find the direction you want to head in.
Three, Be happy, look after yourself and build strong relationships with those around you.
Find out more about our graduate and student pathways
here.