Hydrogen alliance
With a 30-plus year record of exporting LNG to Japan, Woodside has a proud history of supplying the country's energy needs.
Now, Woodside is forging a new path and building on partnerships built over the past three decades to play another vital role in energy – hydrogen exporter.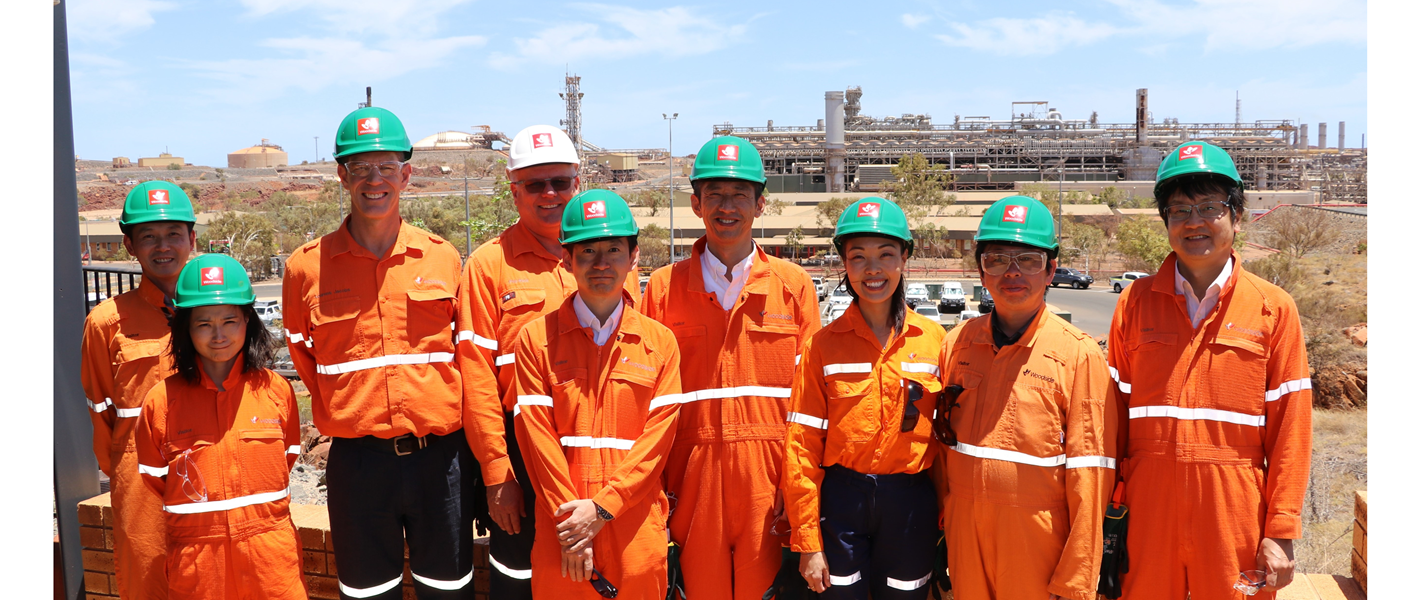 Functions and teams are collaborating to leverage our experience and success in hydrocarbons processing for this exciting zero-carbon energy source.
"There are many similarities between the LNG industry and a future hydrogen industry and the capabilities required," says Reinhardt Matisons, executive vice president Marketing, Shipping and Trading.
"With its long successful history in producing and exporting LNG, Woodside has the required capabilities, Australia has the resources in both gas and renewables, and Japan has the vision."
Shaun Gregory, executive vice president Sustainability, agrees.
"Together, we could deliver a cleaner energy future at the scale, cost and competitiveness needed to make a material impact on lowering emissions," he says.
In pursuit of this goal, Woodside signed an agreement in April with Japanese companies JERA Inc, Marubeni Corporation and IHI Corporation.
JERA Inc is a 50/50 joint venture between Tokyo Electric and Chubu Electric Power Co. It is the world's largest LNG buyer and Japan's largest power generation company.
Tokyo Electric and Chubu Electric were also part of the original consortium of LNG customers of the North West Shelf Project when the first LNG was exported to Japan in 1989.
Marubeni Corporation is a major Japanese integrated trading and investing business, active in a broad range of products and services globally. IHI Corporation is a heavy-industry Japanese manufacturer working in four main areas, one of which comprises resources, energy and the environment.
Representatives from JERA, Marubeni and IHI Corporation toured our operating facilities in the Pilbara in 2019.
The partnership will examine how to reduce the use of hydrocarbons in Japan's energy supplies with the large-scale export of hydrogen as ammonia.
Ammonia is made by combining nitrogen with hydrogen, and its primary use today is as a fertiliser.
But its hydrogen component, and the fact it is very stable, makes ammonia a potential energy carrier.
Currently, there are two hydrogen production processes: "blue" hydrogen, which is produced from natural gas through steam methane reforming; and "green" hydrogen, produced through electrolysis of water powered by renewable energy.
In both production processes hydrogen can then be combined with nitrogen to form ammonia to enable it to be shipped as a liquid.
Woodside, with its huge gas resources, is looking to commence production through blue hydrogen and transition to green hydrogen as costs decrease, and this transition will be one of the areas investigated by the Woodside-Japan partnership.
Chief executive officer Peter Coleman said the agreement was another step forward in Woodside's exploration of the potential of hydrogen as a clean fuel of the future.
"Woodside and its partners in Japan have forged new energy pathways before and we can do so again, as we expect by 2030 to see large-scale hydrogen production around the world and we intend to be part of that," he said.
Read the full Q2 2020 issue of Trunkline here.