Coral Restoration Project, Trinidad and Tobago¹
Coral reefs are one of the most biodiverse marine ecosystems. These reefs support many marine species and ecosystem services that are vital for human socio-economic use including coastal protection, tourism and fisheries.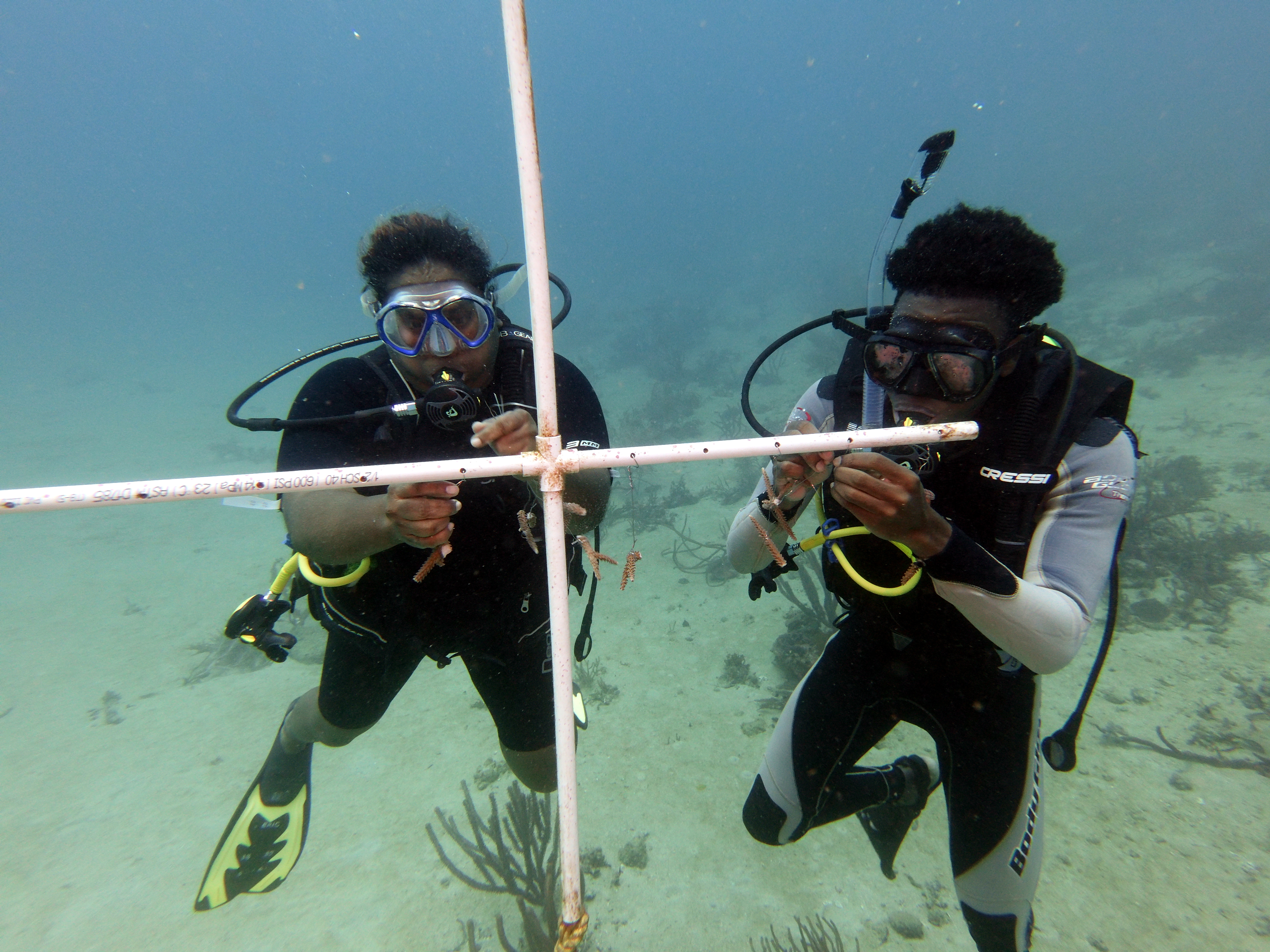 Image: Community based field technicians tying new staghorns coral fragments to the nursey tree. Credit: ERIC
Coral reefs are among the most vulnerable marine ecosystems facing current pressures such as: warming oceans and ocean acidification, land based and marine pollution, overfishing and destructive fishing practices. Caribbean coral reefs including Trinidad and Tobago's reefs have been deteriorating over several decades due to overfishing, coastal development and pollution.
Woodside supports the Environmental Research Institute Charlotteville (ERIC) based in Tobago on their coral restoration project. ERIC has developed a coral nursery and outplanting scheme to restore coral on reefs in the North East Tobago region. The project has focused on the staghorn coral (Acropora cervicornis) which is a Critically Endangered species on the International Union for Conservation of Nature Red List of Threatened Species. The long-term goal is to grow and outplant 5,000 staghorn corals primarily
in Man o War Bay, Charlotteville. This area is part of the North East Tobago Man and the Biosphere Reserve, declared by the United Nations Educational, Scientific and Cultural Organization Man and the Biosphere Program in 2020. The biosphere reserve encompasses a rare, largely intact Caribbean Island Ridge-to-Ocean ecosystem that includes the world's oldest tropical rainforest reserve, and a marine area of 68,384 hectares with coral reefs and mangroves. (https://www.unesco.org/en/articles/north-east-tobago-declared-unesco-biosphere-reserve).
ERIC partners with universities and local communities on this coral restoration project. Furthermore, dive operations and ecological expeditions give visitors the opportunity to get involved and make a tangible contribution to conservation activities in North East Tobago.
During 2022 the project constructed 25 new nursery trees with a total holding capacity of 1,750 coral fragments. Additionally, 230 cultivated coral fragments were outplanted to the local reef. Coral outplanting techniques were further developed to increase the capacity of the project to outplant more than 5,000 coral to the reef by the end of 2023. The project continues to raise awareness about the conservation of coral reefs and the ERIC coral restoration project through a school outreach program. 1

[1]This case study regarding biodiversity did not formed part of the assurance process of the Sustainable Development Report 2022.