Technology teamwork
Our second "collaborative hub" at the University of Western Australia facilitates new ways to make our operations safer and more effective.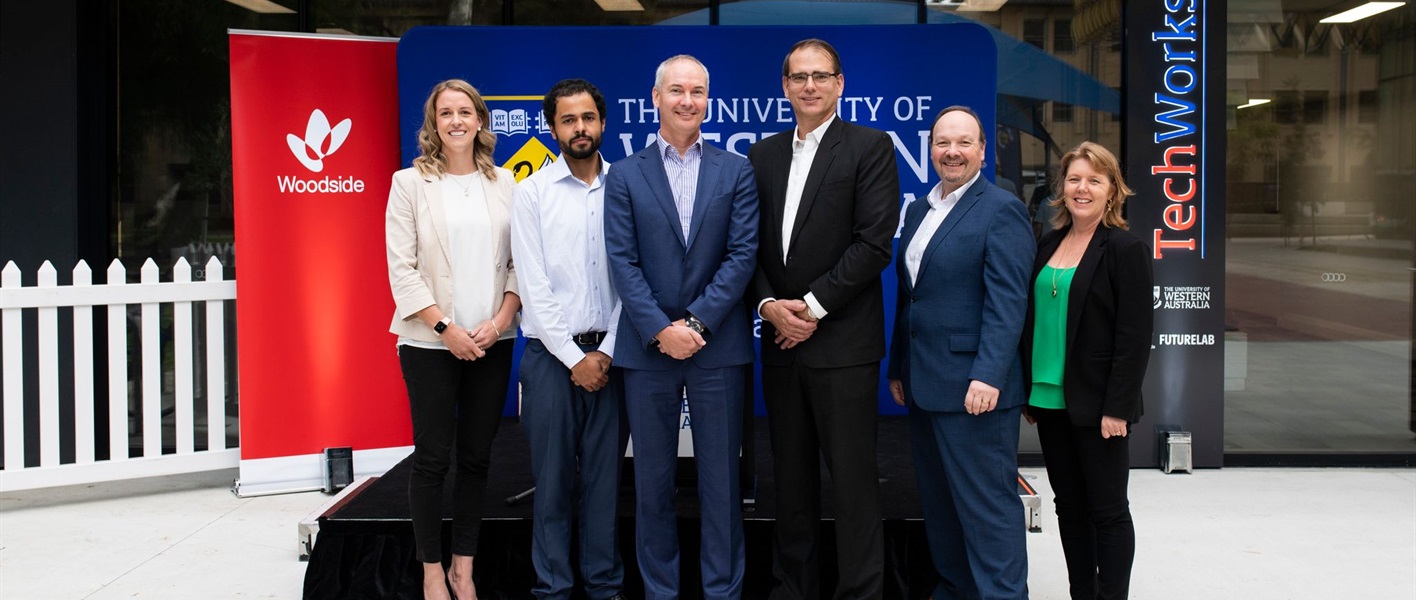 Woodsiders now have access to purpose-built facilities just a short distance from Mia Yellagonga to accelerate the company's drive for technology-based solutions that make our operations safer and more effective.
TechWorks, with a laboratory and professional spaces for Woodsiders to use, was opened in late May at the University of Western Australia (UWA).
It was launched by Woodside's Executive Vice President for Sustainability Shaun Gregory and UWA's Deputy Vice Chancellor Simon Biggs, together with the Dean and Head of the School of Engineering Tim Sercombe.
Shaun Sadler, Open Innovation Lead in Technology, reports that TechWorks is Woodside's second "collaborative hub" at UWA and is a welcome addition to the FutureLab network.
"FutureLab is Woodside's innovation flagship and it's all about fostering new ways of working with our external innovation partners, whether in research collaborations or using the power of the crowd to identify and accelerate novel solutions," explains Shaun.
"Our relationship with UWA is one of the foundations of FutureLab."
"It's a partnership that has successfully delivered a wide range of value-adding research activities for technical functions across the business."
UWA is also home to Woodside's first collaborative hub in the form of OceanWorks (see Trunkline Q1 2021).
"OceanWorks has been a standout in offering both an agile and adaptive prototyping programme and a muchused collaboration space," Shaun enthuses.
"So it's particularly exciting to witness the start of the next phase of this partnership with the launch of TechWorks."
Shaun notes that Woodside is realising its intention for FutureLab to grow and flourish.

I am really excited about this extension to the long-term collaboration between Woodside and UWA - Professor Tim Sercombe
This achievement is testament to the ingenuity and determination of the Production Technology team, looking to make the most of the capability and strong technical partnerships that have developed here over the last few years.
"I am really excited about this extension to the long-term collaboration between Woodside and UWA," says Professor Sercombe.
"Building on the success of OceanWorks, TechWorks will provide an additional platform on which
success of the two entities can thrive."
Stephen Standley, Project Manager in Production Technology, is enthusiastic about TechWorks' potential.
Stephen is leading a number of innovation projects aimed at improving production, maintenance and operations outcomes.
He believes there are great advantages in having a working laboratory so close (5 km) to Mia Yellagonga.
"We're hoping to take advantage of an on-site open-door approach to the new professional space and laboratory facilities in the university campus, where students can pop in and interact with our project teams," Stephen explains.
"These simple interactions could lead to a multitude of collaborative opportunities."
Read the Q2 2021 edition of Trunkline here.