Local content
11 Sep 2023
Successful Dry Deluge test is Australian first
Successful Dry Deluge test is Australian first.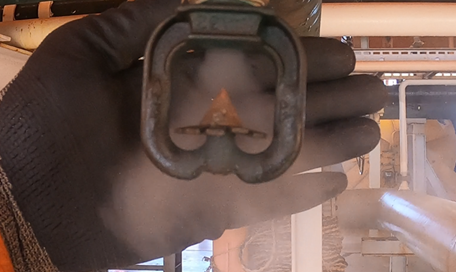 Why use corrosive seawater to test a fire system when you could use vapour?
That's what our Process Safety, Maintenance and Loss Prevention teams asked themselves and recently put to the test. They used vapour instead of salty seawater in deluge system tests, which could revolutionise Australia's offshore fire safety systems, improve performance and save millions of dollars in maintenance.
Well-designed, installed and maintained firewater systems are an effective tool for fire protection on oil and gas facilities to prevent a fire escalating by either cooling or extinguishing the flame. 
Firewater tests or full discharge tests are designed to demonstrate that the fixed systems meet minimum flow, pressure, and coverage requirements and that adequate water is delivered to the targeted area or equipment.
The problem is, spraying sensitive equipment and structures with seawater promotes corrosion, is disruptive to the facility, can cause process upsets and is labour intensive with set-up and fresh water washdown. 
To ensure the performance of this safety critical system is maintained, , using a new testing technique with less adverse impacts is of high importance .
That's where dry deluge testing comes in. This method uses a clear, odourless and non-toxic vapour as an alternate to seawater. This process has been adopted on offshore facilities in the US, Holland, Denmark and UK and has, significantly reduced the frequency of wet testing. But it hasn't been fully adopted in Australia.
Now, in an Australian offshore first, our teams together with contractor Incos Engineering, carried out dry deluge testing on the Okha FPSO, pumping vapour into the system instead of seawater.
"The test was a huge success and feedback from offshore was that the vapour passage through the nozzles could be easily observed, unlike wet testing which is extremely difficult to see due to the high water discharge rates.
The dry testing was executed in a timely manner and most importantly no process upsets recorded," said FPSO Process Safety Engineer Katy Bastani.
Regulatory approvals are currently not in place in Australia for dry deluge testing as an alternative to conventional wet testing and although the offshore tests conducted on the Okha FPSO is a significant achievement, further work is needed to implement this method in Australia.
"Developing the framework, including specific acceptance criteria and testing strategies to integrate dry testing within the deluge system lifecycle, will ensure the full benefits and improved system performance are realised. This together with regulatory approval are the next steps to be taken." said Loss Prevention SME Andrew Spear.
The team will submit their plan to regulators for approval.