Subsea success points way forward
A new way of inspecting subsea equipment was successfully trialled in Q2 in a development that will both generate savings and reduce risk.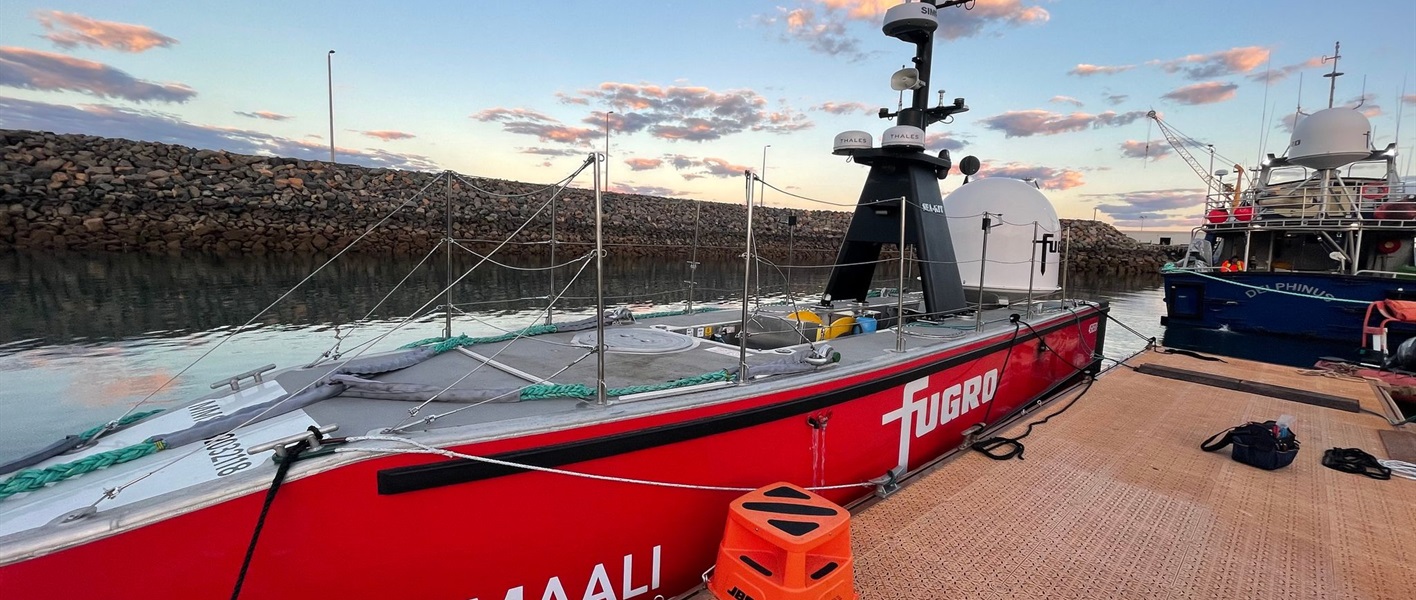 Woodside's subsea team, in collaboration with vessel contractor Fugro, has demonstrated innovation and a willingness to embrace change, successfully trialling an uncrewed surface vessel (USV) to inspect subsea equipment.
The Fugro Maali and what it represents ticks all the boxes.
The Fugro Maali USV conducted an inspection in early May of pipelines near Dampier, off the north western coast of Western Australia. The campaign was the culmination of a three-year program conducted by the Woodside and Fugro inspection, maintenance and repair (IMR) teams.
The program required development of reliable and secure Remote Operations Architecture, construction of the Fugro Maali in the UK and mobilisation of the vessel to the King Bay Supply Base (KBSB) on the Burrup Peninsula.
IMR Technology Lead Yating Zhao noted the extensive collaboration the program has required. "Internally, many functions and teams have assisted; externally, key stakeholders within the Australian Maritime Safety Authority and the Pilbara Port Authority were engaged early and accompanied us along the journey," Yating reports.
The successful campaign was another step along the roadmap for fully remote IMR inspections by 2022. And it opens the door for an expansion of remote operations, including the goahead for a fleet of USVs and applying lessons learned to broader remote capabilities across operations.
"It's a solution which generates significant savings but most importantly it also reduces risk exposure by removing people from high-risk environments," notes Executive Vice President Operations Fiona Hick. "Plus, vessel emissions are significantly reduced compared with a traditional IMR vessel."
Another benefit was that by bringing the offshore scopes onshore, a significant barrier to entry to the sector was removed, enabling a more diverse workforce. Paul Ulyett, Subsea and Pipelines (SS&PL) Production Delivery Manager, explains that subsea inspection is part of the safety case requirements of Woodside's licence to operate. "We are responsible for managing the integrity of our subsea and pipeline assets over their lifecycle," Paul says.
On average, Woodside undertakes 60 days of such subsea inspection scopes off an offshore vessel, and these constitute a signifcant cost to the business. Currently, Woodside utilises a traditional offshore support vessel, the Fugro Etive, which boasts two full-sized remotely operated vehicles (ROVs) and requires 60 people offshore on average to operate. "The future of remote inspections is the Fugro Maali, which requires less than a third of the personnel – all located onshore in various remote operations centres," says Paul, adding this reduces risk by removing the exposure of personnel to offshore activities. "The effect is amplified, because of the associated reduction in fixed wing and helicopter flights to transport these personnel."
Paul adds there is also potential to expand Fugro Maali's capability to complete small intervention scopes, such as valve operations and cleaning. "Starting in the second half of this year, the USV will begin offshore inspection scopes," he says. "The target is to transition about 80% of the annual IMR scope, including some light intervention work, to the uncrewed platform."
The Fugro Maali (which means Black Swan) is a 12-metre USV which can be fitted with either a dedicated electric remotely operated vehicle (ROV) or an autonomous underwater vehicle (AUV). "It operates in crewed, local 'line of sight' and also fully remotely 'over the horizon' modes," Paul explains.
The May campaign comprised Fugro Maali's uncrewed inspection of the NWS and Pluto trunklines up to 50 km from shore, with control switching between KBSB and Perth operation centres. Fiona says the Fugro Maali is a prime example of how Woodside must manage its business to ensure it remains competitive into the future.
"This work started many years ago and is a credit to everyone involved that has taken the concept from a highly innovative idea into reality," she notes. "The Operations Transformation program needs more great ideas like this, collaborating in different ways with our contractors, presenting them with a risk to solve rather than a scope of work.
"This is a great example of collaboration and innovation where the team has delivered a lower health and safety risk, lower cost and lower carbon solution – directly in line with our updated Compass".
"The Fugro Maali and what it represents ticks all the boxes."