People and community
02 Apr 2019
Spectrum shines
Our Spectrum community has received national recognition, winning the new LGBTI Employee Network award for its efforts to support inclusion and diversity.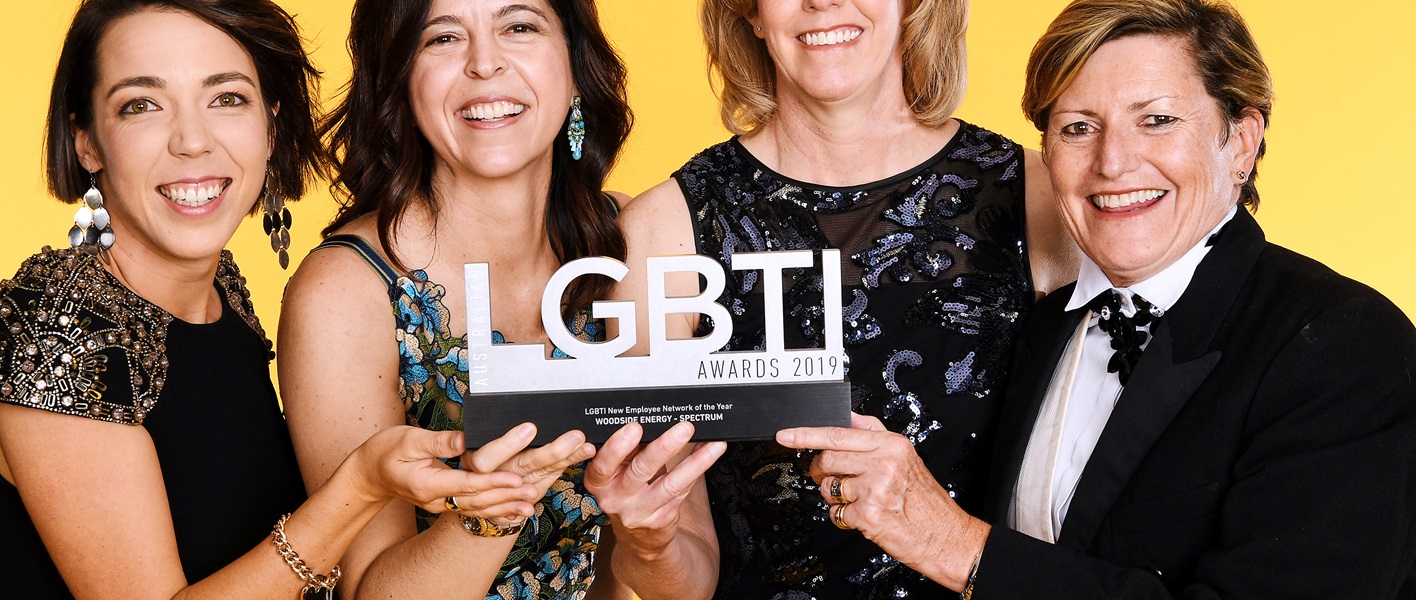 Woodside's Spectrum community has achieved national recognition for its efforts in support of LGBTI inclusion, receiving the award for best New LGBTI Employee Network at The Australian LGBTI Awards.
The award, announced in Sydney in March on the eve of the famous Mardi Gras Parade, recognises Woodside's innovative approach to supporting our LGBTI staff through the efforts of Spectrum.
Woodside's LGBTI employee network was in good company with the shortlisted nominees including Carlton and United Breweries, ME Bank, Maurice Blackburn Lawyers, Vodafone, Flourish Australia and Woolworths Group.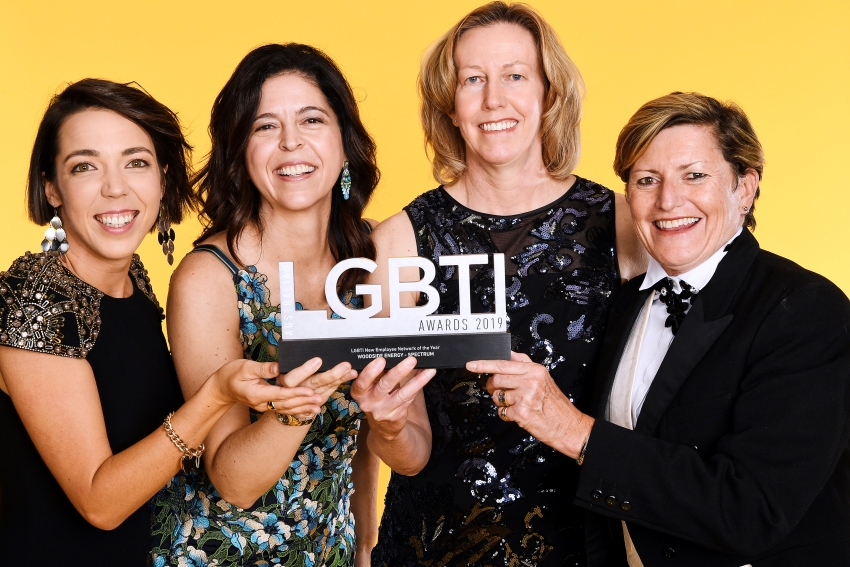 Chief operations officer Meg O'Neill accepted the award on behalf of the company, together with Spectrum's outgoing co-chairs Georgia McClanachan and Kimberly Walpot.
"By advocating for diversity and inclusion at work and beyond, the work of Spectrum members has set a positive example for not only other LGBTI+ employees but for all of Woodside's employees," Meg said.
"Spectrum is not only raising the bar – as all the finalists have done; it's helping to raise the floor, which is the only way we can ensure young LGBTI people truly have equality of choice in their career paths."
The Australian LGBTI awards showcase individuals and organisations that have demonstrated an outstanding commitment to the LGBTI community in the belief that those who go the extra mile to ensure equality, opportunity and fair treatment for all – regardless of sexuality, gender identity, or intersex experience – deserve to be recognised.
Silke Bader, director of The Australian LGBTI Awards, said these awards were created "to draw attention to those LGBTI people and straight allies who are standing up to further advance LGBTI equality in Australia".
Other Woodside attendees at the awards ceremony included incoming Spectrum co-chairs Sean Sweeny and James Nicholson, and Christine Forster.
Kimberly said: "Under the banner of Spectrum, LGBTI people and their allies at Woodside have made a concerted effort to encourage inclusion by putting themselves in the spotlight, telling their personal stories and advocating for inclusion at work and beyond."
They have achieved the delicate balance of inclusion and advocacy in an emerging area of cultural change for the resources industry in Western Australia, she added.
Georgia noted that not only does Spectrum advocate for inclusion at Woodside head office, but members have personally taken the LGBTI+ inclusion conversation to remote sites, international offices and the external community, including universities, government agencies and business partners.
"Spectrum's members have demonstrated a personal commitment to making a change in the workplace – to create an environment where everyone feels comfortable bringing their authentic selves to work every day," she pointed out.
Since coming together as an employee-led initiative in late 2016, Spectrum has achieved a broad-reaching impact.
Georgia said national recognition was a credit to all Woodsiders who had been part of its journey.
Incoming Spectrum co-chairs James and Sean said they were honoured to attend the awards and described Woodside's award as awesome recognition of the efforts of Georgia, Kimberly and the Spectrum committee over the past two years.
"The speeches at the awards night were so heartfelt and a reminder of exactly why we both put up our hands to do more and be involved," they said.
Spectrum shines
Fair Play: Georgia McClanachan, Kimberly Walpot, Meg O'Neill and Christine Forster proudly display the award won by Woodside for supporting LGBTI staff through Spectrum.
Read the full Q1 2019 issue of Trunkline here.