Sixth year as a globally recognised sustainability leader
We are proud to maintain the highest AAA 'Leader' rating for another year in the 2019 Morgan Stanley Capital International (MSCI) Environment, Social and Governance ratings, which were released this week.
Key callouts
This result places Woodside in the top 11% of our sector for sustainability performance.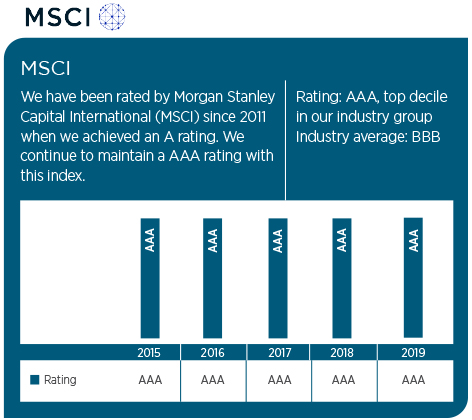 In their assessment of Woodside, MSCI noted:
Our corporate governance practices lead those of global and home market peers.

We have robust anti-corruption policies to manage the risk of potential unethical business dealings or reputational damage.

Carbon management appears strong relative to those of industry peers, averaging 734 tCO2e/USD million sales from 2017 to 2019, better than the peer average of 910.

Our investment in in energy efficiency technologies and process improvements, including setting flaring reduction targets. We link carbon performance to incentive compensation for managers.
"The MSCI is a highly reputable index and provides an independent assessment of our sustainability performance in comparison to our peers," says Woodside corporate affairs manager sustainability, Laura Lunt.
"We're pleased they have recognised our efforts to continually improve our environmental, social and governance performance, which has maintained our AAA leader rating for the sixth consecutive year."
Find out more about our approach to sustainability here.