Planting the seed
Our partnership with Greening Australia, which involves planting native species in Western Australia, has helped Noongar Rangers graduate from a seed planting program.
Noongar people are the Traditional Custodians of Country in south-western Western Australia.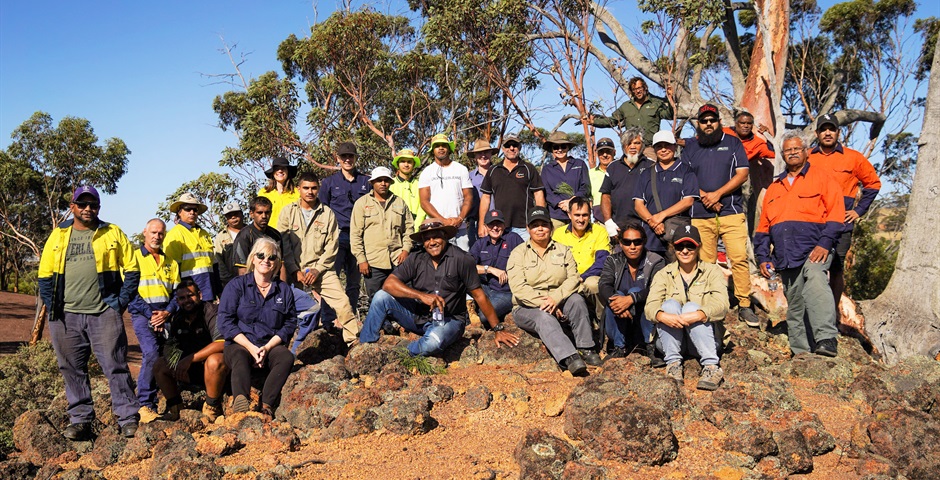 Woodside's partnership with Greening Australia has helped 20 Noongar Rangers complete a seed collection training program and graduate with a qualification in Conservation and Land Management.
Funding for the Noongar Rangers comes from governments, corporates and non-government organisations (NGOs) to manage land.
The seed collection training program was established in 2019 in partnership with Greening Australia, an environmental enterprise, with the aim of providing opportunity for five Noongar Ranger groups with paid, on-the-job, seed collection work over a year.
The five were the Tjaltjraak, Tambellup, Nowanup, Ballardong and Ngoolark Rangers.
Many ranger groups, including those five, are exploring ways to look after country sustainably by establishing business enterprises.
The aim was to encourage capacity building of seed collection and land management practices within the Noongar community.
The training program model was co-designed by Greening Australia and the Noongar Ranger groups.
The on-country learning provides opportunity for rangers to work with senior cultural advisers and contribute to the already-rich cultural relationships rangers have with country and community.
"You just get a certain type of feeling when you're working on Country because you know you're doing your part in regrowing it," explains Jermaine David on behalf of the Ballardong Ranger team.
Vice President Carbon Jayne Baird presented the rangers with their Certificate II in Conservation and Land Management on Ballardong Country in Northam, WA, in February.
"It was important to Woodside that the rangers could participate in an accredited training program," Jayne says.
"We are proud to have been part of something that connected people to community and Country, provided paid employment and offered a pathway to rewarding ongoing employment and local business opportunities for the future."
The training was also an opportunity for Woodside to support regional Western Australia and the local communities where our carbon projects are being established.
The training which builds skills in collecting native seeds, recognising plants and preparing and preserving plant specimens also contributes to capacity building within the expanding carbon farming industry.
The long-term vision for the training is to enable foundational capacity and skills to support the development of Noongar seed supply enterprises.
Through this initiative, Woodside sees a path to direct economic opportunity for Noongar people and environmental benefits for all Australians.
Consistent with this vision, Woodside was able to fund some of the ranger groups to undertake planting work on selected sections of the 2200 hectares of land that Woodside planted with native seedlings in 2020 (see Trunkline Q4 2020).
This training program ties directly into "Caring for Country" – one of the National Leadership projects under Woodside's 2021–2025 Reconciliation Action Plan (RAP).
The Caring for Country project recognises the vital role that Indigenous rangers fulfil in protecting Country, managing heritage and providing meaningful and culturally appropriate employment, training and career pathways.
Woodside's 2021–2025 RAP will be released in Q2 this year.

"We are proud to have been part of something that connected people to community and Country, provided paid employment and offered a pathway to rewarding ongoing employment and local business opportunities for the future."