Myanmar moves ahead
Woodside's proposed deep-water gas development in Myanmar took an important step forward in December with the signing of important fiscal agreements.
The agreements move the Block A-6 Joint Venture (JV) development from its exploration and appraisal phase into its pre-front-end engineering design (pre-FEED) phase.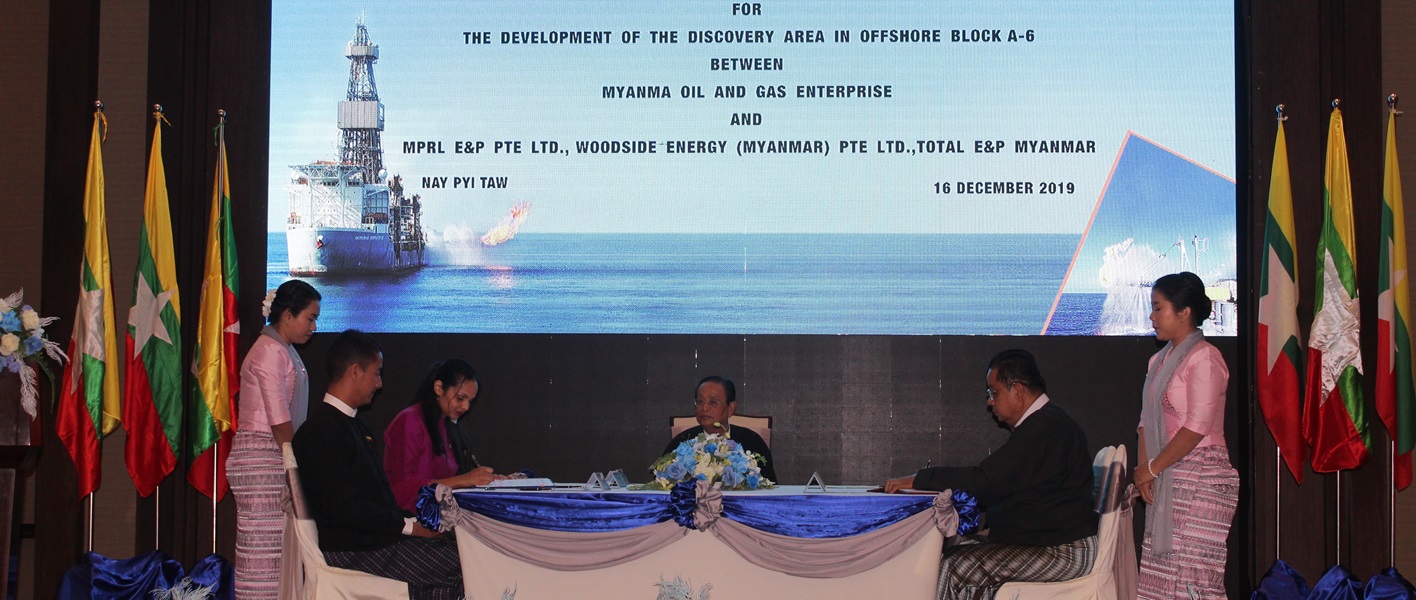 Block A-6 is located offshore Myanmar in the Rakhine Basin and covers approximately 10,000 km2 in water depths of up to 2300m.

It will be the first ultra-deep-water development in the country's history.
Woodside holds interests in nine offshore blocks in Myanmar and these activities support Horizons II and III of our growth strategy.
Executive vice president Development Meg O'Neill represented Woodside at the signing, in Nay Pyi Taw, the capital of Myanmar.
"This gives Woodside the certainty we need to move forward with the A-6 Joint Venture (JV) towards achieving our target of FEED entry next year," Meg explained.
"This milestone has been reached through hard work, cooperation and support from the Government of Myanmar and our joint venture partners MPRL and Total."
Woodside holds a 40% interest in the JV and is the technical joint operator for exploration and appraisal operations.
French energy company Total holds a 40% interest and MPRL E&P Pte Ltd holds 20% and is also a joint operator.
Total will assume operatorship in the development phase and Woodside will become a non-operating venture (NOV) partner after FEED entry – targeted for the second half of 2020.
Five wells have been drilled at Block A-6 since 40m of net gas pay was first discovered in 2018 at Shwe Yee Htun-2.
Gas has been found in all subsequent wells. The estimated resource (Woodside share, subject to finalisation of agreements) is 67 MMboe.
The development concept includes the drilling of around 10 ultra-deep-water wells (six wells in Phase 1 and up to four additional wells in Phase 2), drilled in water depths of between 2000m and 2300m, linked to a subsea gathering system to a shallow water processing platform.
The gas will be exported via a 240 km export pipeline to a riser platform located near the existing Yadana platform complex and then to Myanmar and Thailand via existing pipeline infrastructure.
Meg said that Woodside, as a responsible investor in Myanmar, could play a positive role in the country's development.
She noted the A-6 Development would generate a significant long-term revenue stream for the country and pay taxes and royalties to the Government of Myanmar.
"We know that natural gas has a vital role to play in delivering the extra energy that countries need as part of a lower-carbon future," she added.
"We are also proud that this development has been structured to benefit the people of Myanmar through training, development and capability build for Myanmar nationals."
Woodside maintained a strong focus on ensuring local people and businesses could participate along all stages of the supply chain, she said.
"Pleasingly, during our last drilling campaign 35% of the contractor workforce were Myanmar nationals — employed through our drilling services supply chain," Meg said.
Another pleasing statistic was the safety record Woodside, as the exploration operator, had achieved across three separate drilling campaigns.
"I am proud to report that there were zero lost time injuries," she said.
The date of first gas from Block A-6 is subject to finalisation of agreements.
Read the full Q4 2019 issue of Trunkline here.