Meet a Reservoir Engineer
Jessica is a Reservoir Engineer in the Operations team based at our Mia Yellagonga office in Perth. She tells us about her journey and her role at Woodside.
I am currently working as an Operations Reservoir Engineer, where I have had the opportunity to broaden my knowledge across a range of engineering disciplines and different parts of the business.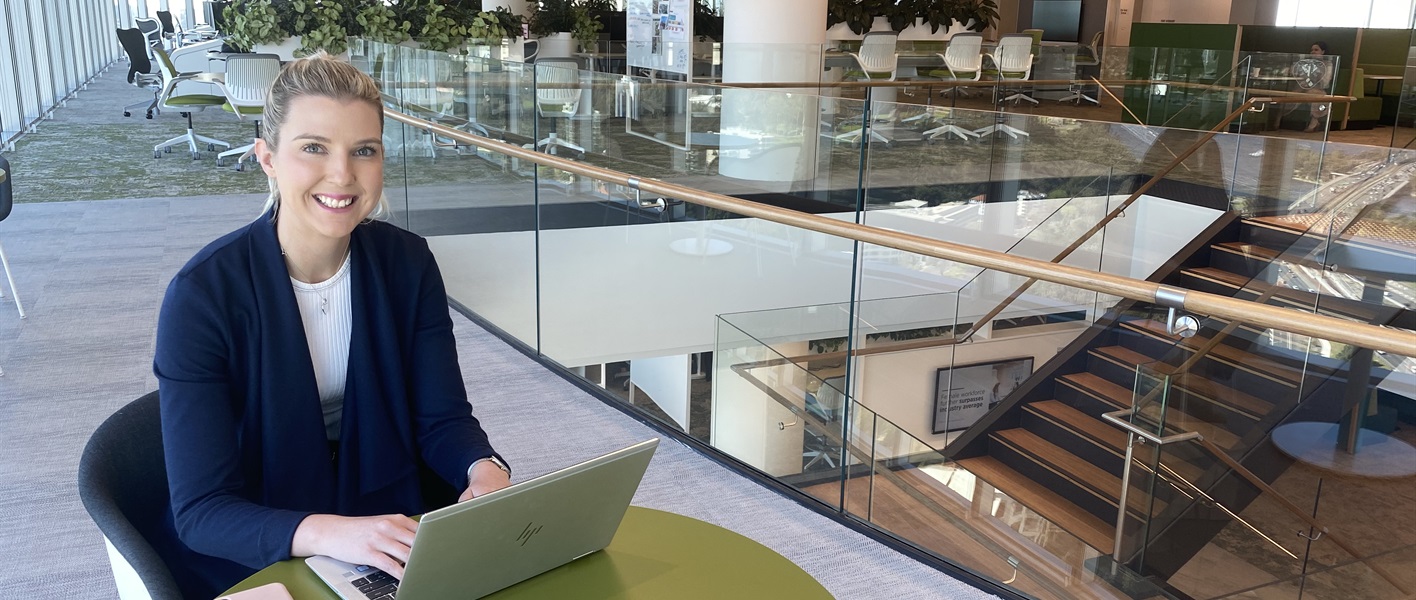 In the Reservoir Operations team, we monitor daily production from our reservoirs to ensure they are producing safely within their integrity limits. We work closely with people from a range of engineering disciplines to diagnose production problems and ensure we are constantly optimising production from our wells and facilities.
The world of operations is agile and exciting. Whether it's engaging with the teams offshore or at Karratha Gas Plant, analysing production trends or understanding reservoir behaviour - it is always challenging and rewarding.
There is a great team culture at Woodside. People are always willing to support one another, learn from each other and work together to deliver. I also really enjoy the flexibility and choice the company provides. Cross-functional rotations, where you can stretch your skills outside of your core area are encouraged. There are also so many chances to take on different roles to continue your learning.
For anyone looking to join Woodside, my biggest piece of advice is always be willing to learn from your mistakes and to embrace the abundance of knowledge that surrounds you. So many people are willing to share their own experiences – seek them out!
If you want to know more about Woodside, or let us know which area you are interested in, join our Talent Community by clicking here.
My day:
06:00 – Alarm goes off, snooze at least 3 times and finally get out of bed at 06:30!
07:30 – Pick up a coffee and arrive at work. Time to check my emails and have a look at production trends of Goodwyn, Rankin and Angel offshore platforms.
08:00 – Attend the daily morning call held with our offshore teams. We discuss health and safety performance, production, vulnerabilities and any priorities.
08:30 – I dial in to a daily hook-up with the Production Optimisation team in Karratha. We work closely with process engineers and production planners to optimise production levels.
09:30 – It's time to sit down and focus on a production optimisation opportunity I am currently working on. We want to maximise delivery of offshore feed to Karratha Gas Plant.
12:00 – Lunch time! I really enjoy getting outside for some fresh air followed by a quick walk around the city.
13:00 – I get into a discussion with inclusion & diversity focal points in the Reservoir Management function.
14:00 – I attend a 120-day Production Optimisation Meeting. We look at the latest weekly forecast to understand if every activity is best placed, balancing offshore/onshore requirements and gas demand. It is always an interesting hour with lots of conversation and ideas.
16:00 – I quickly check in with the team before home time. There is a lot of talk about our hobbies and plans for the evening as we wind down.
17:00 – I go for a walk or ride along the river with my partner. I enjoy cooking so always look forward to making something delicious for dinner! Dinner discussions often revolve around planning our next holiday to the ski slopes!