Meet a Project Engineer
Meet Supratik, a Project Engineer in Woodside's Graduate Development Program.
"I am encouraged to see opportunities when faced with a challenge. Working at Woodside offers a chance to constantly improve and innovate."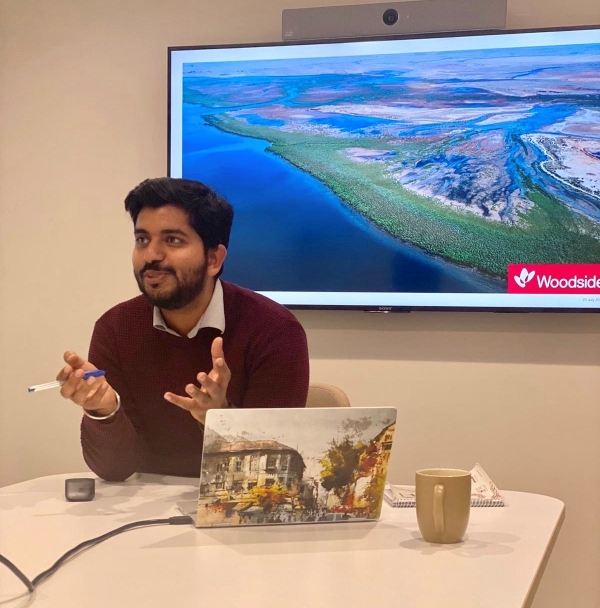 I started my oil and gas career overseas in Oman, working as an Instrumentation Construction Engineer.
After moving to Australia, I commenced the graduate program with Woodside. Being a graduate means you get to extend yourself across many business areas.
During the program, I have been involved in a variety of duties from cost estimating, working on site planning in Singapore and strategy planning. I feel like I've gotten to do so much in the span of less than three years!
One of the best parts of working for Woodside is how approachable our senior leaders are. You feel empowered to make a difference.
I also appreciate the company's focus on inclusion and diversity, and the emphasis Woodside places on continued development. As a graduate, you have access to a world of support from your manager, your function, a coach and a mentor.
If I could offer advice to anyone looking to apply for work at Woodside, it would be to ask as many questions as you can. I would also say that building relationships is just as important as your technical skills - the success of my roles have been driven by collaboration and teamwork.
If you want to know more about Woodside, or let us know which area you are interested in, join our Talent Community by clicking here.
My day:
07:45 - I start the day prioritising my schedule and tasks. I also check the status of actions from the tracking tools Woodside has implemented.
09:00 - it's time to attend a project leadership team huddle to make sure there are no bottlenecks from overnight site work. It's fun to brainstorm innovative solutions to overcome hurdles.
10:00 - I facilitate a risk workshop for the day to make sure that risks are well understood and to identify if any support is required.
11:00 – I reach out to my function to test an improvement project idea.
11:45 - I attend one of the regular Graduate "lunch and learn" sessions which are seminars providing insights on different parts of the business. I then catch up with some of the graduates for lunch.
1:00 - I come back to my desk to attend to some emails. I issue out a document I have been working on for peer review.
3:00 – My technical coach and I meet for a coffee to map out my competencies.
4:40 - I head home on the train with my beloved Kindle!