Graduates and students
28 Jul 2023
Meet a Finance Graduate
Meet Deanna, a finance graduate
A career at Woodside can take you in many different directions. We asked some of our graduates to share their story.
Your Name: Deanna

Your Job Title: Finance Graduate

University Attended: Curtin University

Degree qualification: Commerce Degree Double Major in Accounting and Business Law

Year of graduation: 2022

What's your job about?
I work within Woodside Energy's Finance division, specifically in the Group Financial Control team. This team mainly focuses on all things financial accounting! I joined as a graduate around 4 months ago and I work in a team that overlooks all the financial governance processes. The financial governance team controls various internal processes, some of which must be maintained and updated from time to time, I ensure those changes are made and reflected throughout the company. For others, I prepare the reporting of the outcomes of governance processes. The nature of my graduate role is quite unique, the financial governance team is relatively small which has given me the flexibility to assist other teams across Group Financial Control. I have had the opportunity to work closely with our external auditors and assist them with their enquires in relation to our joint venture audits. I have also had the chance to to prepare various financial statements (the bread and butter for accountants!) for our large number of subsidiary entities. As Woodside's financial year ends in December, and our half year reporting falls in June/July, I have been able to jump over to the reporting team where I have assisted in preparing parts of the notes of the financial statements.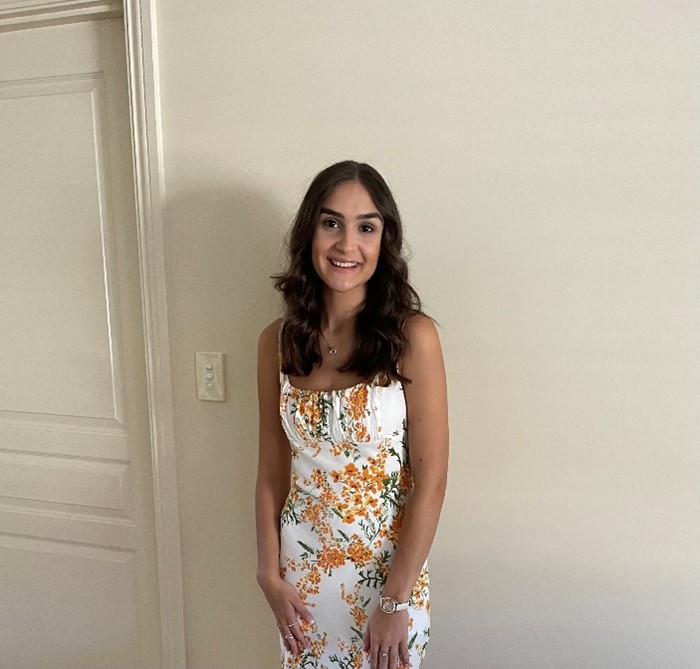 What's your background?
I was born and grew up in Perth, surrounded by a big Italian and Macedonian family! My interest in accounting sparked in high school, I had an amazing accounting teacher who taught our tiny class of 8 students throughout year 11 and 12. She made each class a fun and rewarding day and taught us to love the satisfaction of a balancing debit and credit! After high school, I kept my passion for accounting, and chose to study a double major in Accounting and Business Law at Curtin University. I started university just as COVID lock down hit in 2020! It is safe to say I had an interesting and hybrid experience, nevertheless I loved my university experience, and I am grateful for the friends I made along the way. Whilst I completed my degree, I worked part time at Commonwealth Bank as a personal banker, this was a great experience as I was exposed to the nature of corporate life whilst still being a uni student! In my final year of university, I completed three vacation programs. I vacationed at EY, Deloitte and of course Woodside! I vacationed here for 4 weeks in a management accountant role working with New Energy. After the vacation program I was offered this graduate role and have been here since February 2023!
Could someone with a different background do your job?
I would say yes! A commerce or business background is favourable however if you have the drive and commitment that will shine through. A fun fact, many people in the accounting industry did not major in accounting at university! However, to be working as an accountant you must become a Chartered Accountant or Certified Practicing Accountant. This requires 3 years of further studies (which Woodside fully supports).
What's the coolest thing about your job?
The thing I love most about my job is being able to work with other parts of the organisation. As a new graduate I have found it very beneficial to be able to connect with other colleagues and build my network. Working in financial governance I've had the chance to connect with colleagues outside of Group Financial Control. Although there can be some busy times, I find it very rewarding working with my team and knowing that I have assisted in getting key deliverables out gives me great satisfaction!
What are the limitations of your job?
The main limitation to a finance role is the busy periods. There are two main busy periods in financial reporting which are, half year reporting and year end reporting. These two periods last for around 7 weeks and consist of a higher workload than usual, with fast turn arounds and quick deadlines. These periods do call for extra hours when necessary. This is the nature of the industry and is something the team prepares for extremely well to ensure everyone is feeling supported and not at risk of burn out.
3 pieces of advice for yourself when you were a student...
Make time for your friends and family. Studying is important, but a work life balance is just as important. Create a healthy balance of studying and socialising!
Travel as much as you can! If you have the opportunity and passion for travel, go for it! Have amazing experiences and create a lifetime of memories.
Enjoy yourself! If you work hard, you will be rewarded, but remember to have fun, make friends and enjoy your uni experience!