Marine life
Woodsider Ryan Cobb has become Australia's first Indigenous master mariner by completing his final qualifications at the end of 2019.
That means Ryan holds the highest grade of seafarer qualification and it entitles him to be master of any size vessel of any power in any geographic location.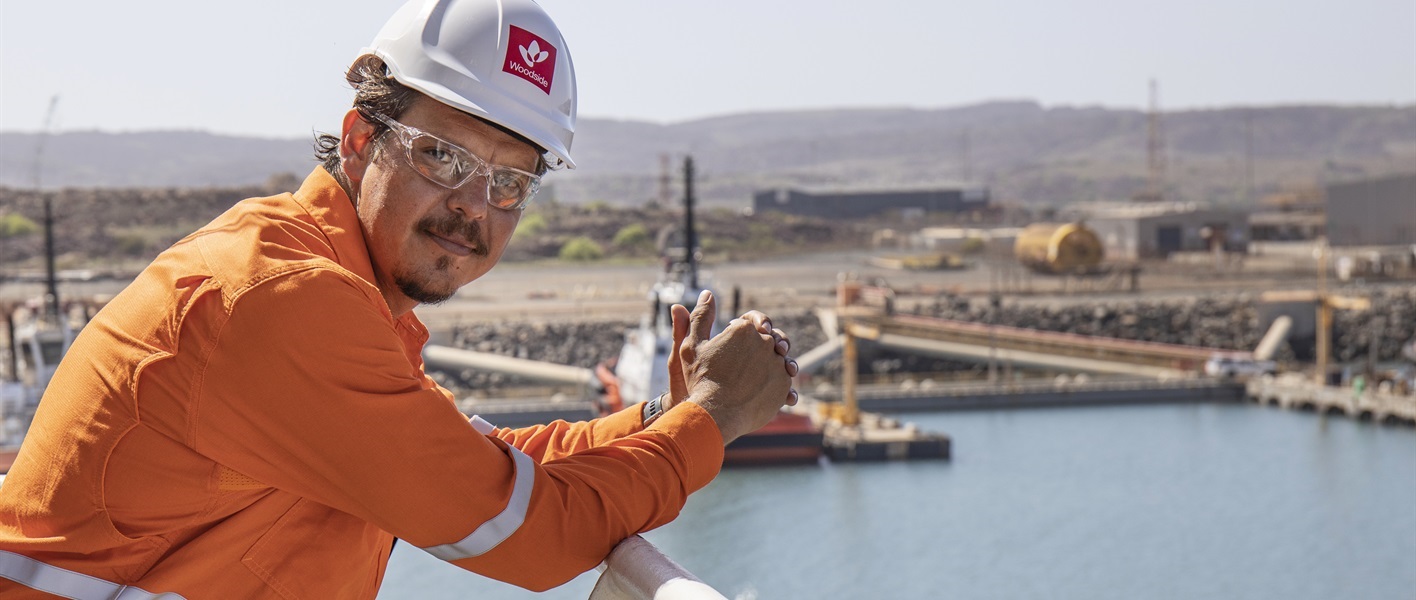 "It was a bit surreal completing my final assessment," he recalls.
"It was a great feeling of accomplishment though it's been such a long journey, for my family in particular. It's as much my wife and kids' achievement as it is mine."
Indeed, the bestowment of master mariner qualification was the culmination of years of study and a life on or in the seas since Ryan started work as a pearl diver in 1998, aged 18.
"I'm a Ngarluma man, with bloodlines to the West and East Kimberley also," he discloses.
"I was brought up in Broome and on the Dampier Peninsula on saltwater country, so I've always had a very close affiliation with the sea."
Ryan had gained entrance to the University of Western Australia to study engineering, but decided his heart wasn't in it.
"I knew that pursuing a career in my home town of Broome drift diving for pearl shell was what I wanted to do," he says.
So he joined Paspaley Pearling Company and rose to head diver when in 2006 he spotted a Woodside advertisement in a local newpaper for marine operations trainees.
"I'd been thinking about life after diving but I still wanted to work at sea, so this traineeship seemed the answer," he explains.
"I figured if I was going to enter into commercial shipping, then I would aim for the top qualification at sea – master mariner. Woodside, with its exposure to LNG tankers and Offshore vessel fleet, could help me achieve my goal."
Though sponsored by Woodside, Ryan was facilitated at sea first by Farstad Shipping.
He began his training at the West Australian Maritime Training Centre, Fremantle in 2006 and two years later started work for Farstad Shipping Indian Pacific.
But he kept in touch with Woodsiders in the Kimberley, notably Michael Roe, now Indigenous employment and training manager, and later, port operations manager Zubin Bhada.
It was this relationship that helped Ryan later gain his deck trainee apprenticeship and experience on Woodside's LNG tankers.
By 2016, Ryan was looking to broaden his career and wrote a plan which had him involved in port operations and marine pilotage.
He met Greg Paten, now strategy and planning manager logistics, and Greg took the idea to Zubin.
Zubin then developed a business case that involved Woodside stakeholders and which was signed off by senior management.
"Being so passionate myself in promoting young Australian seafarers, it gave me immense pleasure to be Ryan's mentor during his training," says Zubin.
Ryan officially joined Woodside Marine in 2017 and began the 15 months of sea time needed to attain his master mariner qualification.
For the past two years, he's been seconded to the Angelicoussis Shipping Group, where he's been deployed to its subsidiaries which transport oil and gas globally, namely Maran Tankers and Maran Gas.
These companies have a close relationship with Woodside as four of our five LNG carriers are owned and managed by Maran Gas.
"My sea time was an intense period of cultural immersion and professional development," Ryan recalls.
"It wasn't just living and working on Greek-manned vessels but also immersing myself in the culture on shore and its operational culture on the vessels."
His seafaring experiences included a full circumnavigation of the globe, beginning and returning to Western Australia on the Burrup Peninsula.
"Transits of both the Suez and Panama canals were both as amazing as each other yet in stark contrast," he adds.
Panama meant sailing through the jungle, and Suez through the Egyptian desert.
Dealing with the heightened threat of pirates through the Gulf of Oman and Straits of Bab El Mandeb was another experience to remember.
"I travelled to no fewer than 28 cities in that 24-month period – Singapore 12 times alone," he says.
Ryan completed his final master mariner exams in November 2019.
Being on very big ships and away from family for four months at a time was an eye-opener and a test, but Zubin reports Ryan fared very well – both in his job of watch-keeping on board the three tankers he served, and as an "ambassador" for Woodside.
Home again, Ryan is now based at Mia Yellagonga Perth as a marine adviser.
He is particularly keen to use his experience and knowledge to further foster Indigenous engagement within the maritime industry.
"It's challenging to be working onshore after 21 years at sea but this role gives me the opportunity to develop my knowledge of marine operations at Woodside and spend some quality time with my family," he notes.
Zubin says Ryan has grown in his time sailing on big ships and predicts he is now ready to embark on another journey – to become Australia's first Indigenous marine pilot.
"I'm sure he will get there with his consistent hard work and passion to succeed," says Zubin.
"I believe that although Ryan was our first deck officer in training he won't be the last, and I'm all geared up to start the entire process again."
Read the full Q1 2020 issue of Trunkline here.