People and community
28 Jun 2019
In the EZONE
Woodside leaders have viewed progress on a new EZONE Student Hub, a facility for mathematical sciences and engineering, in which the company was a foundation partner.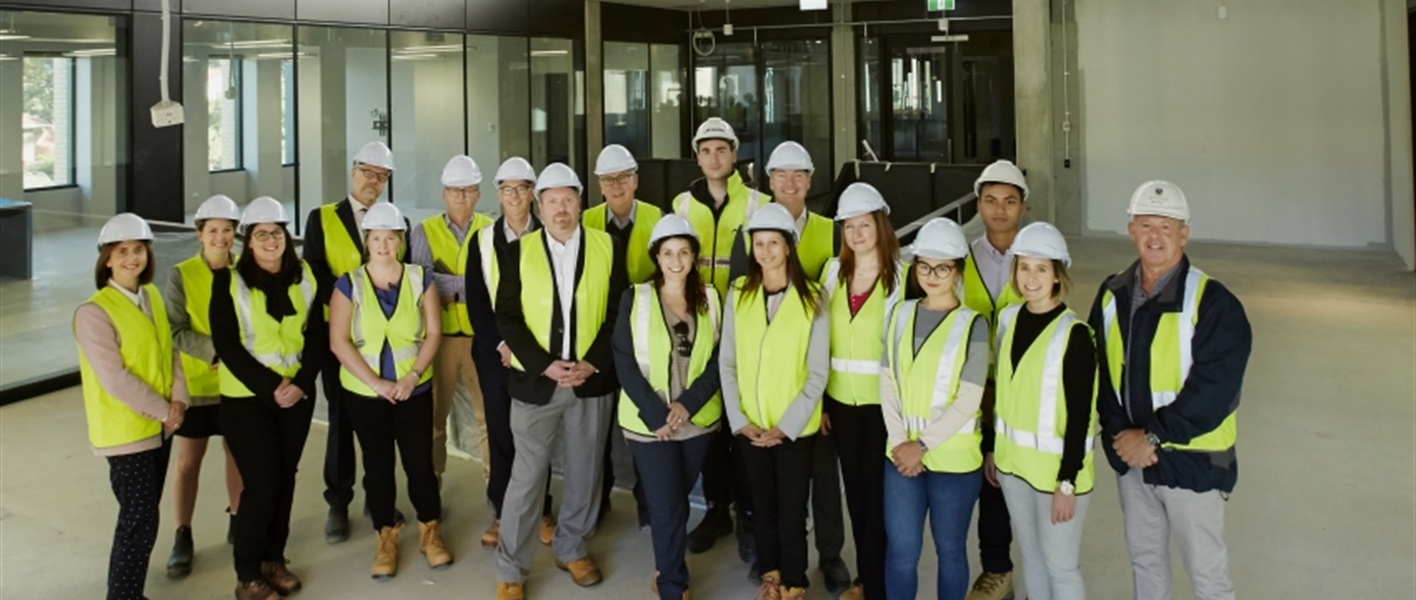 Woodside executives and managers visited the EZONE Student Hub at the University of Western Australia (UWA) in Perth in June, and declared they were excited by the development of the world-class learning facility.
The company announced in 2014 it would invest $10 million over five years in EZONE Student Hub as a foundation partner. EZONE Student Hub is expected to open in March 2020.
Designed for students of the Faculty of Engineering and Mathematical Sciences, it is set to change the way in which they will research, learn and engage with industry and the wider community.
It aims to deliver an innovative and collaborative learning space with unrivalled science, technology, engineering and mathematical (STEM) capability.
And it will focus on combining talent, technology and equipment, equipping the next generation of leading engineers, computer scientists and mathematicians with the tools they need, and developing networks with industry.
UWA graduates constitute a sizeable proportion of Woodside's total graduate intake.
Indeed, executive vice president and chief technology officer Shaun Gregory, who announced the company's grant to the facility more than five years ago, is himself a former student of the faculty.
"At Woodside, we think the Student Hub is a fantastic concept," Shaun said last year at a ceremony to mark the beginning of EZONE's construction.
"We love the idea of a network of teaching and research spaces aimed at encouraging systems-thinking across all faculty disciplines." He described it as a "once-in-a-century opportunity" to revolutionise and revitalise STEM education and research in WA.
John Dell, executive dean of the Faculty of Engineering and Mathematical Sciences, was one of the UWA representatives at the visit.
Professor Dell predicted EZONE would build an innovative and collaborative culture based on a STEM capability like no other in the country.
"Our vision wouldn't be possible without partners like Woodside Energy, who are just as committed to nurturing and inspiring the workforce of the future," he said.
Jason Crusan, our new vice president Technology, said: "We are excited to leverage the strength the EZONE Student Hub will provide for solving some of the most pressing challenges for Woodside and the industry as a whole."
One such initiative sure to be leveraged through EZONE is collaboration between Woodside and UWA on FutureLab, which includes RiverLab and the FutureLab OceanWorks.
RiverLab is an exciting project aimed at developing innovations in offshore engineering, while OceanWorks focuses on bringing together industry and academe to promote innovations around ocean engineering.
Another way the company has partnered with UWA has been through secondments, where Woodsiders have been able to apply their industry knowledge to an external project.
Brian Haggerty, who was seconded to UWA to oversee the design phase of EZONE, is one.
Brian, vice president innovation capability, has a direct role supporting EZONE's activation.
"It was a great privilege for me to work on the design of the EZONE Student Hub whilst on secondment to UWA," he says.
"The industry engagement element of the Student Hub will benefit students, researchers and industry".
The Woodside-UWA partnership dates back to the 1970s.
The company has contributed scholarships, sponsorships and work experience, focusing mostly on geoscience, engineering and leadership – all crucial to producing the talent needed to realise opportunities and solve challenges facing the oil and gas industry.
Read the full Q2 2019 issue of Trunkline here.