Homelessness help
To raise awareness of homelessness in Western Australia, Woodsiders took part in a range of activities including donating foodstuffs, preparing meals and a sleepout.
Every night in Western Australia, more than 9000 people experience homelessness, around 1000 of whom sleep rough.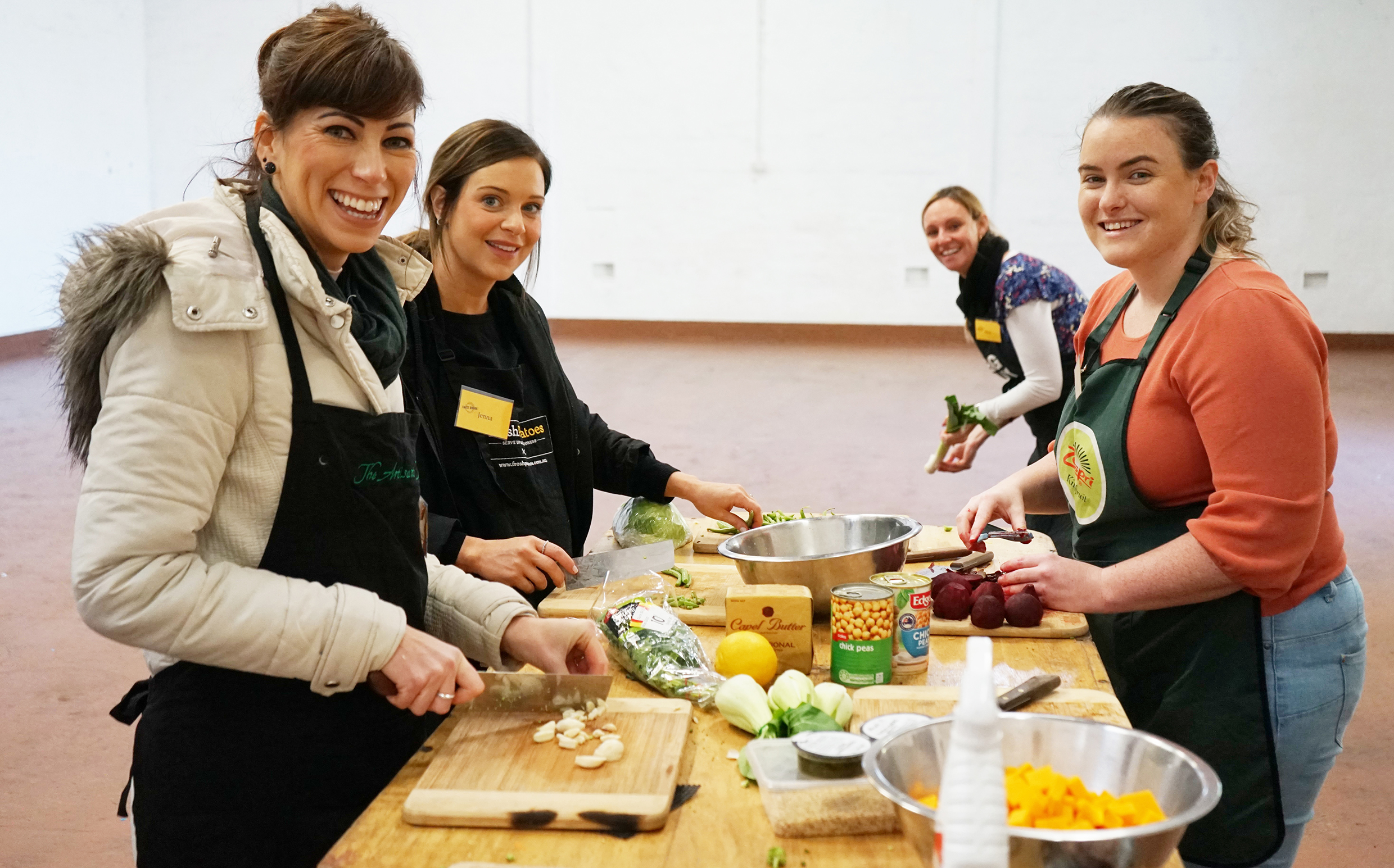 Homelessness is a confronting and complex issue.
Aligned to national homelessness awareness week in Australia, the Health, Safety, Environment (HSE) function sought to raise awareness of the extent of homelessness in WA.
Graduate Health and Safety Adviser Milan Mathew was a co-organiser of the event, together with HSE graduates Ashleigh Haddon, Chinonye Uba and Chloe Anderson.
"We offered a range of activities to help our people to learn more about homelessness and the ways they can help," Milan says.
One way was donating foodstuffs, and collection boxes for dry goods were placed on Level 2 of Karlak.
The donations went directly to Foodbank WA, an organisation that provides food relief to some 45,000 Western Australians every month and one that was supported by Woodside's COVID-19 Community Fund.
In fact, the fund provided much-needed help to many organisations, including Foodbank WA, Lifeline WA and St Barts.
Representatives of these organisations visited Mia Yellagonga at the start of the week, sharing insights on their work and how corporate support helps.
"They also delivered information on what we as individuals can do, ranging from volunteering to different types of donations," reports Milan.
Tuesday offered the opportunity for some of the HSE team to volunteer at Taste Budds Cooking Studio - a competitive cooking challenge which involved preparing food for the Tranby Homelessness Centre.
Health and Safety Analyst Misty Cosnett was one participant.
"I absolutely loved volunteering for such an amazing cause," Misty enthuses.
"We had fun while helping those in need, reflecting on their reality and on what we are grateful for."
Saturday night offered a unique opportunity for members of the HSE function and their families. Nearly 40 people, including many children, came together with no more than a sleeping bag to spend the night in the car park at Mia Yellagonga.
Woodside's partnership with Orange Sky, whose vans provide clothes washing facilities and a mobile shower for people living on the street, was explained by Lisa Sprlyan, Community Impact Manager for Orange Sky.
Lisa's presentation included the sleepout attendees heading to the loading dock under Karlak to inspect Orange Sky's new van, made possible by Woodside's partnership.
Health and Safety Manager Mark Watters attended with his family.
"My girls, Ava and Lia, had a great time viewing the van and learning about the work Orange Sky does for the homeless," Mark says.
"Our family now has a much better appreciation of homelessness and we talk more about being grateful for what we have."
HSE Vice President Debbie Morrow emphasises that the sleepout was not intended to replicate the experience of homelessness.
"Rather it was to create a sense of discomfort to remind us how lucky we are and for us to consider what more needs to be done to ensure everyone has a home," Debbie explains.
Attendees of the sleepout fund-raised more than $10,000 for St Bart's.
Milan reports that the efforts during homelessness awareness week delivered a great result.
"In addition to raising more than $10,000 for St Bart's, we filled donation boxes for Foodbank and cooked more than 240 meals for Tranby Homelessness Centre," he says.

Read the full Q3 2020 issue of Trunkline here.