End of an era
This is Trunkline's last edition. As part of a review of its life over the past 29 years, founding editor Graeme Atherton recalls how the magazine came about.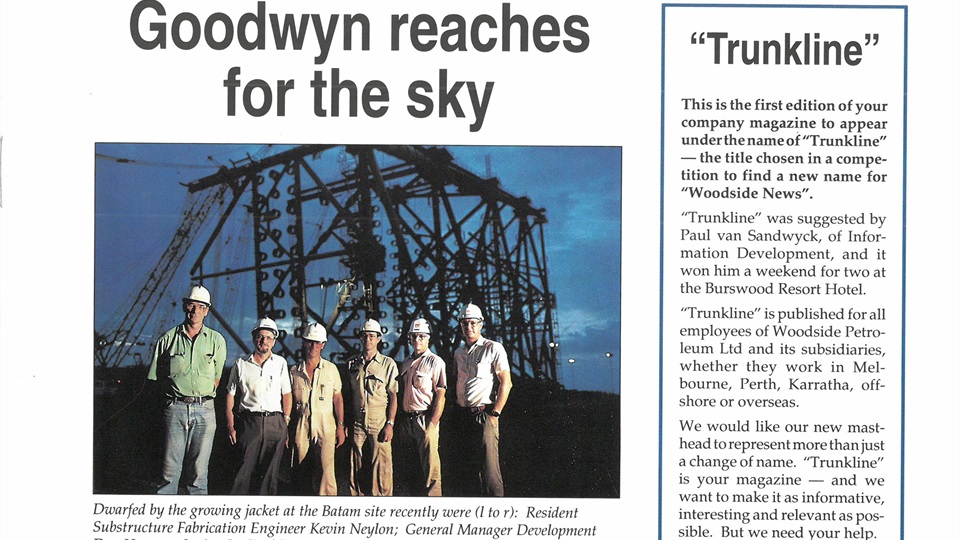 I gave up my newspaper career to join Woodside in April 1988 as the company was in the throes of moving to its new headquarters at No 1 Adelaide Terrace, Perth.

Amid the turmoil of moving offices, my new boss Matt Pollard told me my immediate task was to produce the next edition of the staff magazine, which hadn't been published since its previous editor had left six months earlier. And so I was introduced to The Woodside News.

It was an A3 black and white newspaper-style publication which had evolved from a humble newsletter started during Woodside's earlier exploration years. It was supposed to be published bi-monthly, so the next edition was well overdue. I managed to get it published a few weeks later – featuring the successful big office move on the front page.

In 1991, another journalist, Iain McCoy, joined our department and we decided it was time to give Woodside News a new look. We reduced it to a more compact A4 format and added some colour.

We discussed giving it a new name but couldn't come up with any bright ideas. So The Woodside News it remained until the end of that year, when we resolved the issue by inviting Woodside staff to offer suggestions for a new name.

The name Trunkline was submitted by Information Development Officer Paul van Sandwyck.

We liked the reasoning behind it: just as our subsea trunkline connected our offshore and onshore operations, Trunkline would connect the company with its employees – and help staff connect with each other.

The first edition of the magazine to appear under its new Trunkline banner was published in February 1992, featuring construction progress on the new Goodwyn A platform jacket.

Trunkline survived a cost-cutting program in 1994 but, for a period of time, it was produced with fewer pages, reverted to black and white and had its frequency reduced to quarterly.

Eventually, however, it would be produced in full colour. Its editorship was taken over in 1995 by another former journo, Mike Edmondson – one of several editors who have kept it going ever since.

In an organisation that embraces change as readily as Woodside, it is a testament to Trunkline's value to the company – and a tribute to its numerous staff contributors and supporters – that it endured essentially unchanged for almost 30 years.

But it was perhaps inevitable that the move towards paperless communications would eventually catch up with it. I just hope that whatever form of staff communication succeeds it proves to be as successful.

Vale, Trunkline – you served the company well.
Read the Q3 2021 edition of Trunkline here.