Double triumph
Two Woodsiders walked away winners at this year's Women in Resources Awards, held by the Chamber of Minerals and Energy of Western Australia.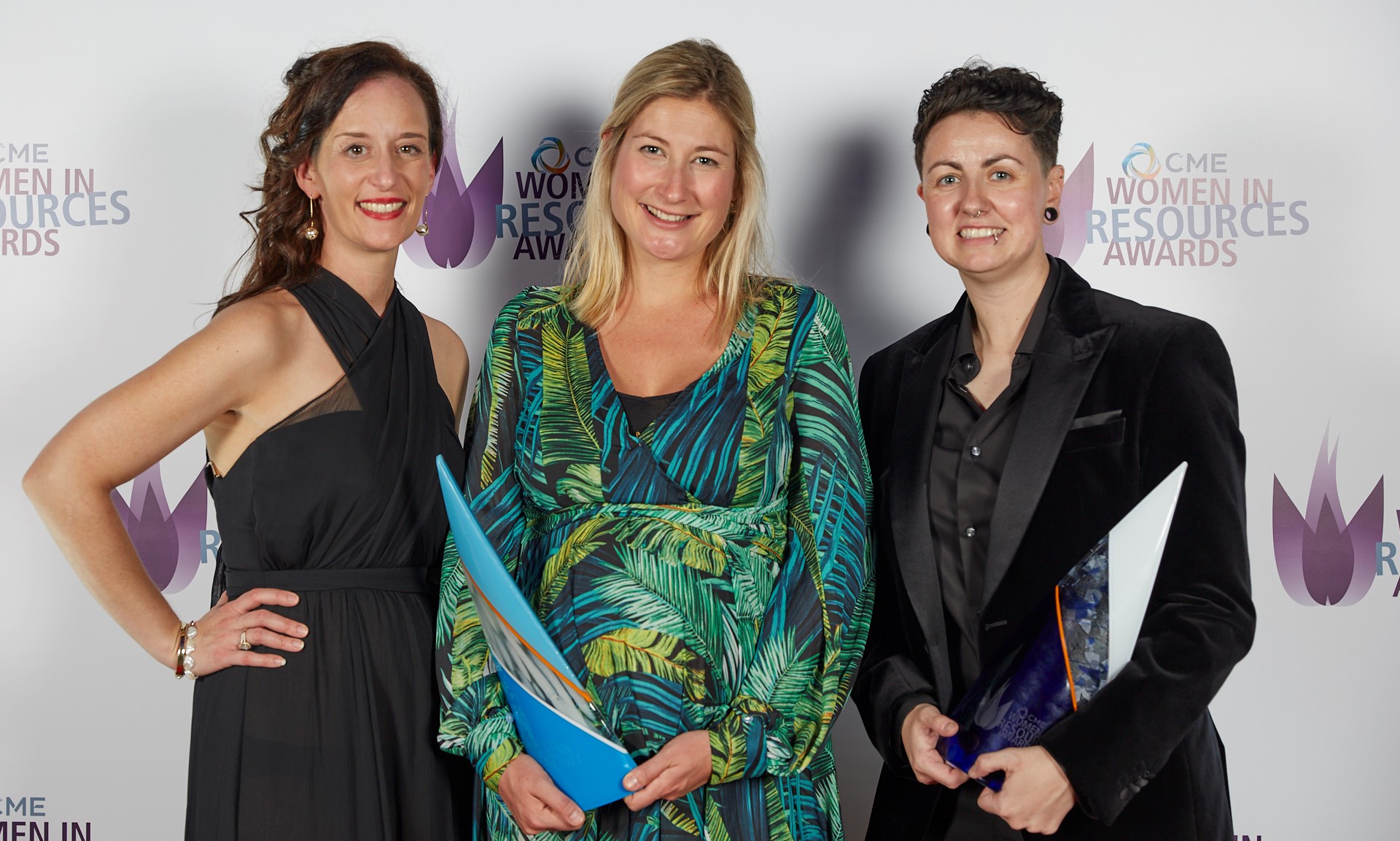 When two Woodsiders won their categories in the Chamber of Minerals and Energy of Western Australia Women in Resources Awards (WIRA) in March, both had messages for their infant sons.
Alison Barnes, who won the Woman in Resources Technological Innovation Award, hopes that gender equality will be so entrenched by the time her boys grow up that they'll consider it a curiosity that she ever received such an award.
And Laura Allen, who was named Outstanding Operator/Technician/Trade Woman in Resources, joked in her acceptance speech that her son had better respect women . . . or he'd end up homeless.
Both speeches received rousing applause from the 1,000-strong audience at the gala dinner.
Yvette Manolas, Asset Manager Pluto, was honoured as a finalist in the Outstanding Women in Resources category.
Woodside has a strong history of winners and finalists in the WIRA awards, which recognise the power of gender diversity in the WA mining and resources sector, attracting more than 80 competitive nominations this year.
Laura's award nomination praised her infectious personality, passion for her trade, describing her as a natural leader. Laura, in Production Support, has often been the only woman on site throughout her career, and usually the youngest.
Early in her career she won Apprentice of the Year at Electrical Group Training and her nomination recognised that she continues to go from strength to strength in capability and leadership. "I have been given great opportunities since starting at Woodside – my trade has actually turned into a career," she says.
"I was the first female Responsible Person Electrical (RPE) offshore in 2015 and I was responsible for the safe execution of all electrical work at any facility."
In 2017, Laura became the first female Production Maintenance Coordinator on a floating production storage and offloading vessel.
"I call for all women in operations to be bold and step up," she declares.
"Young women, we are counting on you to join us."
"I call for all women in operations to be bold and step up"
Alison, Commercialisation Manager in Technology, started at Woodside working on the offshore Goodwyn asset, before moving to Karratha for the Pluto LNG Project.
In 2016 she completed an MBA.
"It is important to be proactive and positive, give all opportunities a chance, no matter how daunting they may seem at first, you never know where it will take you," Alison states.
She works with the intelligent and autonomous systems team, commercialising some of the technology she helped to create.
She is proud that the robotics team she built up and once led now has one of the highest in-house robotics capability of any oil and gas company in Australia and is deploying world-class software developed with NASA to our Woodside assets.
"The NASA project challenged me," says Alison. "It was a career-defining opportunity."
Alison notes the importance of mentoring and networking to help younger colleagues garner the confidence they need to grow in their career.
Yvette leads a team of 300 and was awarded the WA Young Business Woman of the Year Award in 2009.
She believes anyone, regardless of gender, should be able to pursue their dreams and achieve their potential.
Jacky Connolly, Vice President People and Global Capability, says: "We are so proud of the winners and finalist,
"We feel privileged to have them work at Woodside."