People and community
07 Jan 2019
Building success
Achievements across the business were recognised at the annual Woodside Awards, with our new headquarters, the Mia Yellagonga campus, taking out the Chairman's trophy.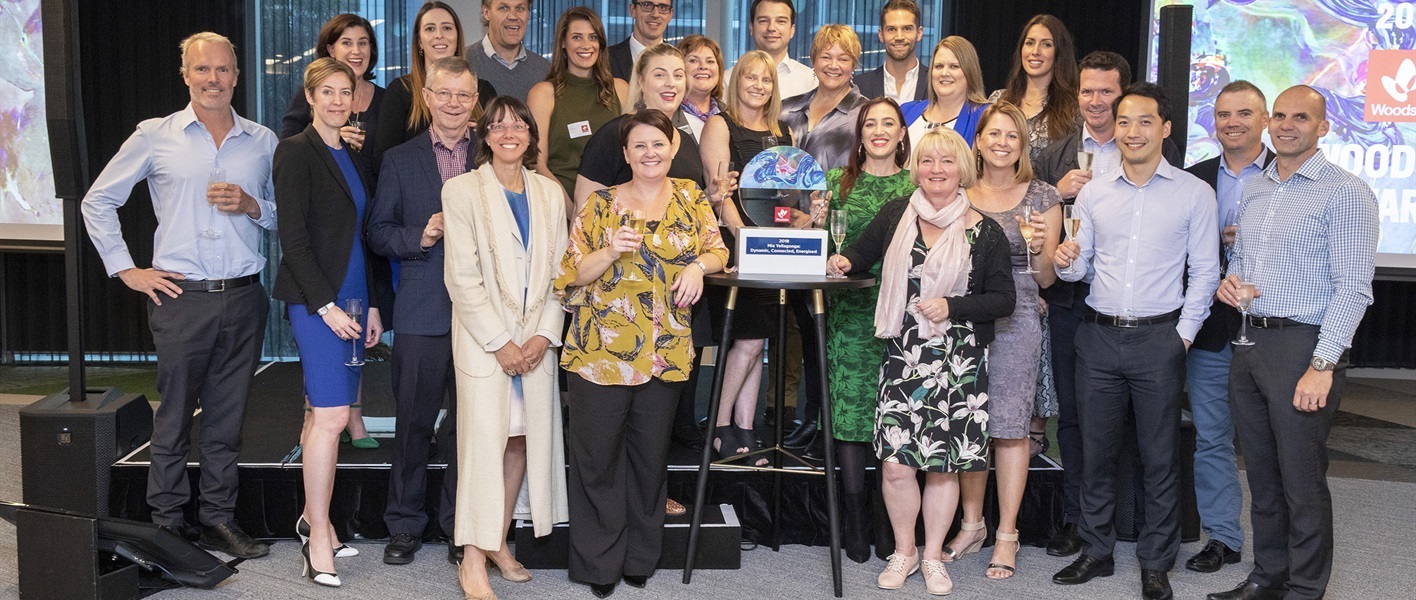 For Woodside's new headquarters, Mia Yellagonga, the journey has been as important as the destination. Every step of the project's progress has been guided by a desire to foster innovation, collaboration and acceleration in line with company values.
And that journey was rewarded with the coveted Chairman's trophy at the annual Woodside Awards in October.
Mia Yellagonga has a six Green Star rating, advanced wellness features and a variety of workspace choices, enabled by cutting edge technology.
As Chairman Richard Goyder explained, the building sets the scene for optimal performance – now and well into the future. Building success "In all, it has been a massive company effort guided by our Global Workplace & Property Team," he said. "They are very worthy winners."
From the use of biometrics, backed by global best practice processes, to the commissioning of artworks that highlight the Whadjuk Noongar people's connection to the land, each feature has been carefully considered and integrated.
The win also acknowledged the effort to ready staff for the move and to open the door to new ways of working.
In fact, innovative thinking was a feature of the ceremony, with high praise given to all 100 entries.
In the end though, there could be only one winner for each category.
And the winners were:
Value: Accelerating Greater Western Flank 2
The GWF-2 Team, working together with our contractors, used innovative offshore execution practices to improve performance and delivery. They were able to consolidate two separate ready for start-up scopes into a single RFSU, bringing the project six months ahead of schedule and achieving significant savings.
With ullage emerging at the Karratha Gas Plant, this outcome improves operational flexibility as well as project economics - a great result for our business.
Sustainable Outcomes: Mercury Recovery Facility
Mercury, which is removed from natural gas to make LNG, can be harmful to human health if not managed appropriately. Woodside worked with specialists to design, build and ensure safe operation of a state-of-the-art mercury recovery facility in Karratha.
This reduces the likelihood of people being harmed through accident or mishap, eliminates the need for long-term storage while waiting for Basel Convention permits, ensures quick removal of the material during turnarounds and builds advanced technology in the Pilbara, creating jobs. It provides a cradle-to-grave Australian solution to dealing with this hazardous waste.
Innovation: Safe and Speedy Pluto Flare Solution
What do a sock, Post-It notes and a hula-hoop have in common? Combined with some clever thinking, they helped safely secure a misplaced beam at our Pluto gas plant.
Discovered during a routine inspection, the beam sat above critical piping and only 10m away from the flare tips. Keen to avoid a major unplanned shutdown – the simple and most conventional approach to solving the problem – a multidisciplinary team was formed to take on the challenge. They combined to deliver a quick, creative and highly innovative solution.
Culture & Inclusion: GEM - Value Through Gender Equality and Inclusion
In the past year, Gender Equality Matters (GEM) has had a change of name and launched its inaugural five-year plan. Its strategy is clear, resting on four solid pillars – challenge norms, elevate role modelling and pathways, support the modern worker, and dismantle barriers through advocacy.
Membership is booming with stretch targets reached across all parts of the organisation, taking in greater gender balance, function and seniority, and work location. Momentum is strong.
Read the full Q4 2018 issue of Trunkline here.