Local content
08 Sep 2023
Bikes provide a smooth ride on site
HAKC Enterprises, an Aboriginal family business based in Karratha, created a fit-for-purpose bike for our site operations.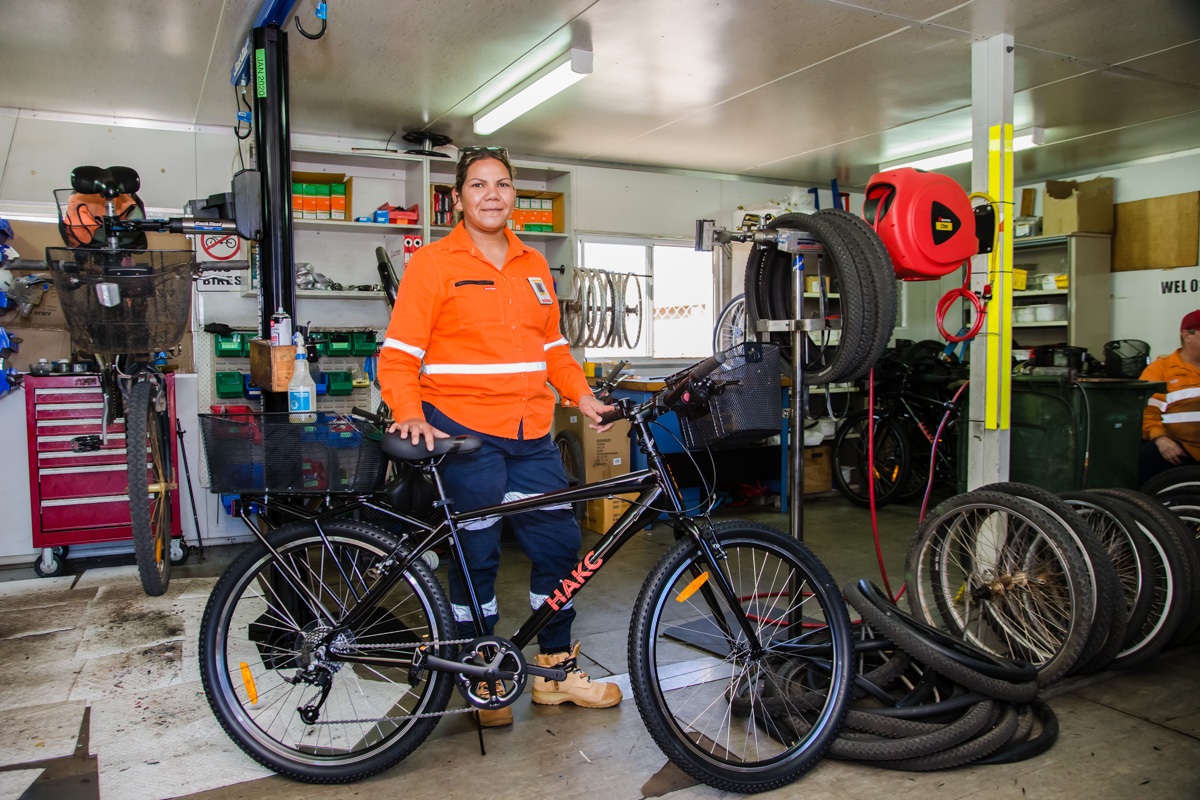 The most popular way to get from A to B at Karratha Gas Plant (KGP), is on two wheels.
Bikes have been used at KGP for nearly four decades. They reduce the need for vehicles on site and if the rider follows the rules, they're very safe to operate.
There are over 750 bikes, used day and night by our workers. They're a standard mountain bike that have been adapted for site use.
But during COVID, Haylee Bartlett from Karratha bike and maintenance company HAKC Enterprises - an Aboriginal family business, found it extremely difficult to source parts to repair our site bikes.
"We started looking at how we could make our own bikes. Then we stumbled across somebody who had contact with a bike manufacturer and he acted as our middle person to start the communication process," said Haylee.
Haylee, who has lived in Karratha for more than 15 years, designed the bikes from scratch with the help of a reputable supplier, to suit site needs based on feedback from Woodsiders on the ground at KGP and the on-site HAKC bike mechanic.
"We found we don't need all the bells and whistles that the standard mountain bike has because it's not relevant to what workers need to get around on site. They're not exactly riding up mountains or on rough terrain," said Haylee.
So, Haylee created the HAKC bike, equipped with a built-in back bike rack, a higher quality and more durable frame and an eight-speed rear cassette which negates the need for a front derailleur and lowers maintenance costs. The custom HAKC bikes are also 15% cheaper than the previous modified mountain bikes used on site.
The first 50 HAKC bikes arrived at KGP earlier this year.
"It's really rewarding to see the design come to life and being used in the conditions they were built for," said Haylee.
"The new design is purpose built for industrial conditions and are more heavy duty than a recreational bike. This essential transport allows personnel to transit distances between work locations, reducing vehicle traffic and boots on the bitumen," said Ann-Maree Dadleh, Site Services Coordinator.
Haylee's also currently designing a uni-sex frame to better suit female riders as well as a trike.
"It's also fantastic that we're contracting with local businesses like HAKC to ensure the Karratha community directly benefits from our operations," said Julie Attwood, Local Content Manager.
The next stock of HAKC bikes is due to arrive at KGP in the coming weeks.