Sustainable Development Goals
The 17 SDGs aim to tackle some of the world's most pressing economic, environmental and social issues.
The United Nations Sustainable Development Goals (SDGs) intend to address the world's most pressing economic, social and environmental issues. The SDGs require businesses, government, and society to contribute to relevant target deliverables.
Our SDG strategy reflects our efforts to support the global
sustainability agenda throughout our operations, supply
chain, infrastructure, and employment opportunities.
We categorise our SDGs into tiers, including primary goals,
secondary goals and our underpinning goal. With primary
and secondary goals is where we make the most significant
contribution. Progress against the deliverables in our
Sustainable Development Report 2021 is outlined below.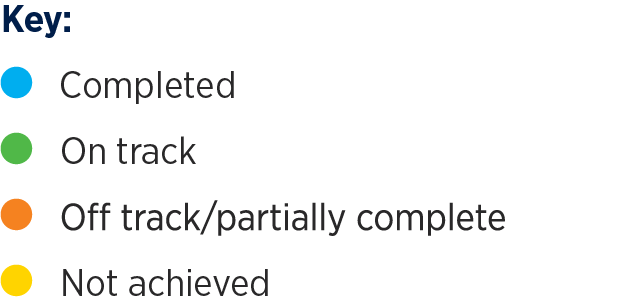 Primary goals
Affordable and clean energy
Our Aspiration

Continue to provide LNG as a cleaner source of fuel for global markets and pursue the development of
lower- and zero-carbon energy sources.

Our deliverables
Our progress
Continue to provide cost-competitive LNG through our existing facilities and growth projects.


Achieved final investment decision for Scarborough and Pluto Train 2 projects.
Develop new markets for LNG as a lower-emissions fuel in trucking and shipping.



Sales and purchase agreements were signed to sell trucked LNG for customers to use for power generation.
Diversify our business into supplying new energy products and lower-carbon services, particularly proposed hydrogen projects.1






Secured land for H2Perth, a world scale hydrogen and ammonia production facility, and have secured land in Tasmania for the H2TAS development.
Secured a lease and option to purchase 94 acres (38 hectares) of vacant land in Ardmore, Oklahoma, to underpin future development of its proposed H2OK project.
Develop a business to originate and acquire quality carbon offsets.


Continue to grow our Carbon business with an aim to develop a diversified domestic and international carbon offsets portfolio.
1 This wording has been updated to reflect the content of the Woodside Climate Strategy included within the Climate Report 2021.
Decent work and economic growth
Our Aspiration

Continue to support economic growth as a supportive and responsible employer.
Our deliverables
Our progress
Continue to provide and support apprenticeships, traineeships and Indigenous participation in education pathway programs.



Launched the Woodside scholarship program, with 20 inaugural recipients and continuing to
support 54 Indigenous apprentices and traineeships in Karratha and Perth.
Conduct human rights due diligence activities, including country risk assessments and human rights assessments.




Undertook a salient human rights impact assessment across our business and a Myanmar human rights risk assessment. Completed annual refresher
training of the Code of Conduct for all employee and contractors with system access, which is a mandatory requirement.1
Develop local capabilities, support training initiatives and offer employment opportunities with a focus on oil and gas disciplines in Senegal.



Trained government agencies to aid in environmental monitoring and regulation, and provided financial support to the National Oil and Gas Institute to build capability in Senegal's oil and gas industry.
Continue to ensure controls and monitoring are in place to achieve equitable pay for all employees.



Undertook our annual remuneration review to monitor and assess equitable pay for all employees, in addition to adjusting our external recruiting practices to address any potential bias in remuneration on hire.
Provide business capacity and capability development opportunities for local and Indigenous businesses in communities neighbouring our Australian operations.



Through the Karratha and Districts Chamber of Commerce and Industry, we continued to support the Pilbara Indigenous Business Network and Grow Local programs.
Collaborate with Yangon Technological University in Myanmar to build in-country capacity and knowledge.




Ceased activities with the Yangon Technological University.1
1 Subsequent to period, on 27 January 2022, Woodside decided to withdraw from its interest in Myanmar.
Climate action
Our Aspiration
Set short and medium term climate change targets, underpinned by action to minimise climate change and its impacts.
| Our deliverables | Our progress |
| --- | --- |
Reduce net equity Scope 1 and 2 greenhouse gas emissions to 15% below gross annual average by 2025.¹
Reduce net equity Scope 1 and 2 greenhouse gas emissions to 30% below baseline by 2030.¹
Achieved efficiencies in the design and operation of our assets, please see pages 24-27 of the Sustainable Development Report 2021 and the Climate Report 2021 for more information.
Support international efforts including the World Bank's Zero Routine Flaring by 2030 initiative,
the Methane Guiding Principles and the International Energy Trading Association's Markets for Natural Climate Solutions initiative.
Reported initiatives taken to address methane emissions to the methane guiding principles organisation. See Climate Report 2021 for more information.
Woodside was a founding member of the International Emissions Trading Association (IETA) Markets for Natural Climate Solutions Initiative.
In 2021 IETA and Carbon Market Institute (CMI) established an Australian group focused on expanding the role of private sector engagement in the expansion of natural climate solutions in Australia and the region.
1 Target is for net equity Scope 1 and 2 greenhouse gas emissions, relative to a starting base of the gross annual average equity Scope 1 and 2 greenhouse gas emissions over 2016-2020 and may be adjusted (up or down) for potential equity changes in producing or sanctioned assets with an FID prior to 2021. Post-completion of the Woodside and BHP petroleum merger (which remains subject to conditions including regulatory approvals), the starting base will be adjusted for the then combined Woodside and BHP petroleum portfolio.
2 See glossary for definition of equity and net equity Scope 1 and 2 greenhouse gas emissions.
Secondary goals
Quality education
Our Aspiration
Support quality education and lifelong learning opportunities.
Our deliverables
Our progress
Work collaboratively through the Woodside Development Fund to reduce developmental vulnerability and improve early childhood outcomes in communities where we are active.






The Woodside Development Fund portfolio of partnerships continued to deliver the core investment themes of community-led collaboration, capacity
and capability build and advocacy through programs delivered in Australia, Myanmar and Senegal.1
Engagement that commenced with the Roebourne community and local 6718 Yandi for Change initiative helped to mature a new partnership opportunity that we believe meets the needs and aspirations
of the community.
Support the Karratha and Roebourne Education Initiatives through the NWS Joint Venture (JV) to provide high-quality educational opportunities for students and professional development opportunities for their teachers.





More than 1,600 Karratha students participated in programs supported by the NWS Project's Karratha Education Initiative. Programs included
digital technologies, exam revision seminars, career counselling, employment pathway and leadership development programs. The NWS Project also continued to support the Roebourne Education Initiative for students at Roebourne District High School.
Continue to partner with Earth Science Western Australia to deliver the STEM (Science, Technology,
Engineering and Maths) in Schools program to primary and high school students in Western Australia.






Established in 2016, the employee-led STEM in Schools Program has reached over 10,000 students in Perth and Karratha. A review of the program sought to shift the future strategic focus due to the plethora of STEM initiatives now available in schools. Delivery of the program wound down in Perth in 2H 2021 yet continued in Karratha. New collaborative partnerships were identified where employees can volunteer their technical expertise to advance STEM outcomes from 2022.
Support science, technology, engineering and maths initiatives through partnerships with Scitech, Monash University and the University of Western Australia (UWA).






The Woodside Building for Technology and Design officially opened at Monash University to support new solutions in sustainable energy technology.
A partnership with Scitech was renewed for the STEM After Schools Program and co-investment was made into the implementation of the Digital Technologies Curriculum Initiative facilitated by the Western Australia (WA) Chamber of Commerce and Industry.
1 Subsequent to the period, on 27 January 2022, Woodside decided to withdraw from its interest in Myanmar.

Industry, innovation and infrastructure
Our Aspiration
Continue to improve productivity and energy efficiency by embracing technology and innovation.
Our deliverables
Our progress
Leverage Woodside's FutureLab program hubs at Australian universities to work with researchers, entrepreneurs, subject-matter experts and parallel leading industries to solve industry challenges and create shared opportunities.




Through the innovations at the University of Western Australia's TechWorks, we have begun 3D printing replacement parts for our offshore operations and delivered them on demand. With the Top Code program, we are engaging data scientists to augment the company's digital capabilities.
Invest A$40 million in facilities and research to progress Australia's transition to a lower-carbon economy through the Woodside Monash Energy Partnership.



Research underway includes acetic acid production by CO₂ conversion, liquid hydrogen storage, and gas phase CO₂ conversion.
Improve our operations and processes through adoption of more efficient technologies in industrial processes to meet our energy efficiency target and reduce emissions.1



Please refer to the Climate Report 2021 for details of 2021 abatement activities.
Sustainable cities and communities
Our Aspiration
We will support social outcomes through protection, recognition and respect for Indigenous culture and heritage.
Our deliverables
Our progress
Support cultural heritage management initiatives proposed by Traditional Owners and Custodians through engagement and consultation, including programs to facilitate the transfer of cultural knowledge and values.




Committed to an ethnobotanical survey of Indigenous plant use within the perimeter of the Karratha Gas Plant, in addition to supporting the World Heritage listing of the Murujuga Cultural Landscape.
Fund Indigenous ranger programs that protect cultural and natural heritage and regenerate Country.



Multi-year sponsorship agreement with the Murujuga Rangers and provided funding support for the publication of a book of traditional knowledge about native plants on Murujuga.
Support credible and robust scientific research to further understand our potential environmental impacts on Indigenous cultural heritage.



Provided funding to the Burrup Air Monitoring Program in support of the WA Government's Murujuga Rock Art strategy.
Life below water
Our Aspiration
Uphold robust environmental management and process safety practices to minimise our impact on marine environments and partner with research institutions to contribute to knowledge of these areas.
Our deliverables
Our progress
Maintain high levels of oil spill preparedness and response capability through our testing and simulation program.




All employees who have a role in the Corporate Incident Command Centre undertake specific hydrocarbon spill awareness training. Twenty hydrocarbon spill exercises and 16 hydrocarbon spill drills were completed in 2021 testing oil spill arrangements across all Woodside Australian assets, as outlined our five-year rolling schedule.
Develop our in-country hydrocarbon spill response capability in Senegal including planning, ensuring the supply of essential equipment and providing training to local responders.



Established a comprehensive spill mitigation equipment stockpile in Senegal and completed spill response training with contractors and relevant in-country government agencies.
Continue to collect and share scientific information on coastal and offshore biodiversity with key research organisations to support effective marine planning and management.



Funded research into marine mammals and turtles, with nine studies published in international
peer-reviewed science journals.
Life on land
Our Aspiration
Improve air quality and degraded habitats through restoration and sustainable use of land.
Our deliverables
Our progress
Undertake quality carbon offset projects that deliver co-benefits including land restoration and biodiversity outcomes.



Woodside in partnership with Greening Australia planted trees on 3,000 hectares during 2020 and 2021 on three Woodside properties in Western Australia: Cowcher, Sukey Hill and Manalling Springs.