Remote benefits
How to maintain business continuity during a pandemic or adverse weather event was the challenge for a small Woodside team – in the middle of a pandemic. New work practices helped them succeed.
If a cyclone forced the shutdown and evacuation of our assets, whether offshore platforms or onshore facilities, the impact on production would be significant.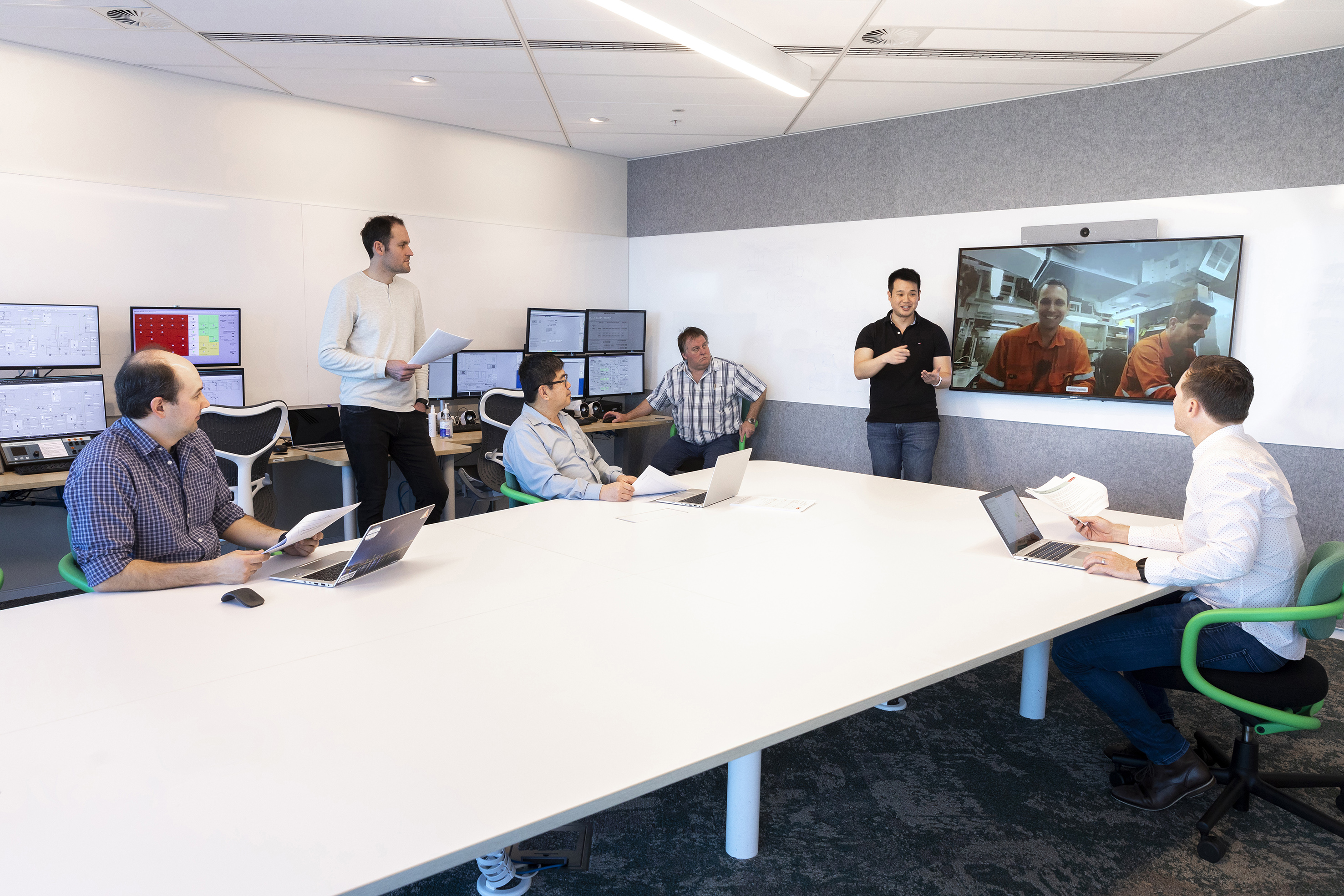 There might also be serious consequences for production and the health and safety of a crew should a contagious illness require them to be quarantined in isolation and the asset de-mobilised for sanitisation.
Enter the operations transformation project called PACE (Trunkline, Q1 2020 edition), a program to ensure Woodside's operations not only keep up with competitors but outpace them – in part with remote operations.
Leon Burgin, Integrated Remote Operations Centre Project Manager, was overseeing the remote operations pilot for Pluto LNG plant and Woodside's growth projects when COVID-19 set in.

What emerged was an unforeseen opportunity to leverage work on remote operations already completed.
The benefit of remote operations became clear when Tropical Cyclone Veronica hit WA's North West in March 2019.
Eight offshore operators moved to Karratha Gas Plant (KGP), and Goodwyn Alpha's (GWA's) Train 100 and Angel kept producing.
It had already been planned to extend remote operation during cyclones to GWA Train 200 and the three North Rankin Complex (NRC) trains. Could that be achieved during COVID-19?
A small team began investigating how to maintain business continuity during a pandemic or adverse weather event.
Project Engineer Soon Khoo led the team.
"The key challenge for the NWS Project was delivering on an aggressive timeline in an environment that was rapidly changing and presenting new challenges daily," Soon explains.
"We had to challenge our normal work practices and develop different ways of working."
The team delivered the ability to de-staff and operate remotely GWA, NRC and Angel for up to seven days from Perth should it be required.
Moreover, they achieved it in just six weeks between March and May – at the height of the coronavirus pandemic.
To illustrate the acceleration achieved, the project to remotely operate GWA Train 100 from KGP took more than 18 months.
"It's a fantastic result," says Leon.
"The team set about adopting new work practices when working from home was the new norm, while still managing risk and delivering a quality outcome by changing our mentality and the conventional way we did things."
For example, factory acceptance testing was completed remotely and from different locations.
"Everyone had to work virtually, including our vendors – it was a big change to the way we were used to working," says Soon.
And vendors couldn't travel to site as normal; so instrument electricians did the implementation with remote support from Perth.
Leon says the extra trains that can now be operated remotely provide greater flexibility and diversity of supply in the event of de-staffing of NRC or GWA.
"Now, we have to take advantage of this crisis and capture and embed these work practices that enabled us to deliver a quality outcome in record time," he adds.
Senior Vice President Operations Fiona Hick says congratulations are due to all involved.
"The remote operations work is a fantastic example of creating opportunity from a time of crisis," Fiona says.
"The entire team was resourceful and showed great resilience.
"Despite a number of challenges, they persisted and implemented a solution that keeps people safe and protects production during cyclones."
Read the full Q3 2020 issue of Trunkline here.