Producer to processor
The Woodside-operated North West Shelf (NWS) Project has been the powerhouse of Australia's oil and gas industry with a track record of reliable production and delivery since 1984.
It's the largest single supplier of pipeline gas in Western Australia and has exported more than 5300 cargoes internationally since LNG production commenced in 1989.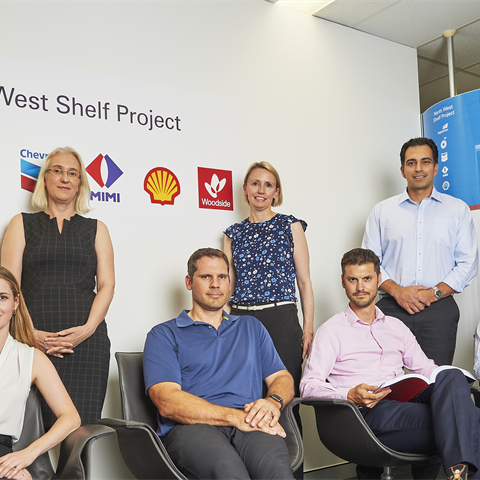 As the existing NWS reservoirs deplete, and capacity emerges at Karratha Gas Plant (KGP), an opportunity arises to transform the existing strategic infrastructure into a world-class, third-party gas processing facility.
The aim?
To maximise commercial value while minimising physical disturbance onshore and offshore and extending production into the future.
This will stimulate the growth of Karratha and surrounding regions for the next 50 years.
But it entails a significant change in KGP's future role – from being a producer to a processor.
"A massive amount of experience has been built up over 35 years of successful operation of the NWS Project," points out Jason Page, onshore program manager.
"The opportunity to leverage this experience and provide competitive solutions for processing other resource owners' (ORO) gas can keep KGP full for decades to come."
Sarah Carter, general manager NWS Extension, takes up the story.
"The NWS Extension Project was set up in 2017 to deliver ORO gas supplies to the NWS," Sarah explains.
"Producing third-party gas and fluids through existing NWS Project facilities not only makes good commercial sense, it will also enable the NWS and other resource owners to take advantage of capacity emerging in NWS infrastructure."
To enable the long-term processing of ORO hydrocarbons, substantial technical hurdles will need to be overcome. As development lead Adam Morris points out: "Not all gas is the same.
"The composition of gases from potential ORO is different from what KGP was designed to process.
"Some of the ORO gas will have more nitrogen and some will contain less components like propane and butane which are required to process LNG."
All of these scenarios create complex technical challenges which require cost-effective solutions and integrated process studies are key as the team models a range of future mixes of NWS and ORO gas blends.
Working close to Mia Yellagonga and represented by Joint Venture (JV) participants, the NWS Extension Project has been working to deliver multiple bankable ORO development concepts of varying size, composition and complexity.
Modification to infrastructure may be needed, including systems and equipment to deliver accurate metering and hydrocarbon accounting.
And technical solutions are being embedded into commercial constructs underpinning key processing agreements.
Sarah says various Woodside functions and teams, working with the JV, have created an environment poised for success.
"This was demonstrated in July 2018 when the JV agreed key commercial terms to be offered to all OROs," Sarah says.
"This was a significant milestone in enabling more efficient utilisation of our existing facilities and a key step towards supporting the longer-term Burrup Hub vision."
Darren Flynn, vice president Development Planning, says he's proud of the team.
"They've successfully collaborated across multiple areas, working closely with commercial managers, technical engineers, joint venture partners and project managers to make progress," Darren notes.
"The next few months are a critical time with several key decisions pending but I have every confidence that they will succeed".
Read the full Q1 2020 issue of Trunkline here.