Half-Year 2020 Results
Record production during unprecedented times.
Despite extraordinary external conditions, in releasing our Half-Year 2020 results, we recorded our highest ever first-half production of 50.1 MMboe. Our operating revenue was $1,907 million.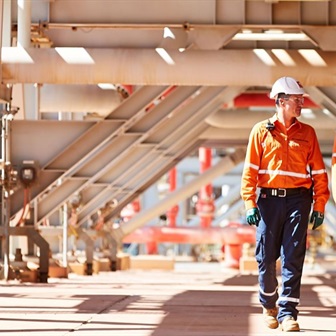 Underlying net profit after tax was $303 million. A reported net loss after tax for the half of $4,067 million, reflected the non-cash impairment losses and onerous contract provision announced in July. The directors declared an interim dividend of 26 US cents per share.
Woodside CEO Peter Coleman praised the company and its people, having proved their resilience and adaptability.

The record production achieved in the half is a credit to our people's ongoing commitment to sustained operational excellence.

"Woodside's operational performance during the first half was nothing short of outstanding," said CEO Peter Coleman.
Following Tropic Cyclone Damien, we faced the emerging challenge of COVID-19, requiring us to take swift and decisive action to protect our workforce, communities and operations, and ensure safe and secure gas supplies to customers in Western Australia and overseas.
Oil and gas prices were negatively impacted by the confluence of geopolitical dynamics, global economic uncertainty and energy demand destruction brought about by the COVID-19 pandemic. Oil price fell as much as 80% from the start of the year and LNG spot prices have seen historic lows.

However, our strong balance sheet and disciplined approach to capital management positions us to progress our strategic growth plans and take advantage of potential opportunities which may arise.
Woodside remains committed to developing the Scarborough and Browse gas resources through our proposed Burrup Hub and has continued work on commercial agreements and regulatory approvals to ensure we are ready to take final investment decisions when investment conditions improve.
In the first half of 2020, key milestones were reached for our near-term growth projects. We achieved a final investment decision and began project execution activities for the Sangomar Field Development Phase 1 in Senegal, and the North West Shelf's Greater Western Flank Phase 3. We also continued work on the Pyxis Hub and Julimar-Brunello Phase 2 offshore Western Australia.
Read the full announcement and Half-Year Report here.