Get SMART on the frontline
Mobility-enabled SMART (Simplified Maintenance and Reliability Tools) apps are being used to enable new ways of working at the "frontline" of our business.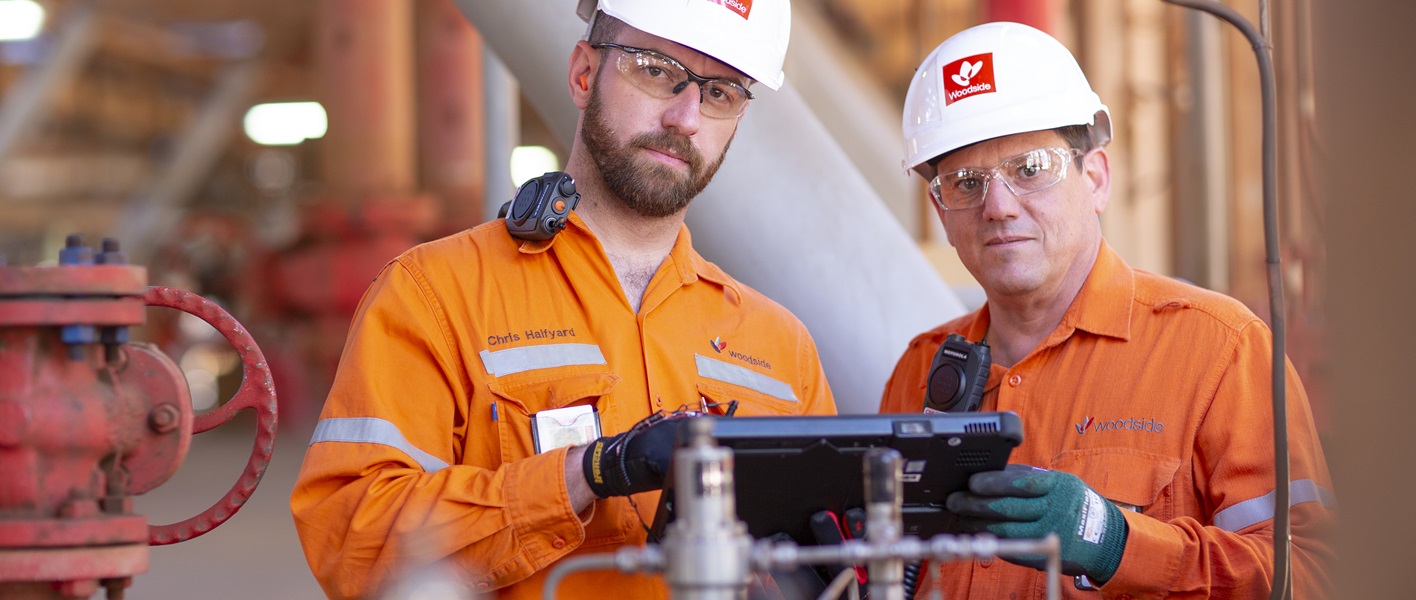 Innovation can occur anywhere – in universities, in laboratories and on the frontline in a gas plant.
Its ingredients usually include a problem, a creative mind and a healthy dose of collaboration. Which is how Chris Halfyard came to create a new way of reporting data – without compromising safety and reliability of operations.
Chris, an instrument electrician (Inlec) at Karratha Gas Plant (KGP), believes manual forms and reporting are the enemies of efficiency.
"The reactive nature of frontline work makes it very difficult to keep track of what has been closed out and updated in SAP," he says.
He knew juggling such demands increases pressures, which can lead to costly mistakes. With colleagues, he devised a prototype to track progress of their allocated tasks and close out their work from a simpler interface than SAP.
"It has significantly changed the way we worked and increased the quality of SAP closeouts," reports James Hodnett, frontline supervisor at KGP.
Digital's Ben Quartermaine now leads a highly skilled, agile SMART (Simplified Maintenance and Reliability Tools) Apps team charged with developing mobility-enabled apps to deliver Chris's vision.
With Digital providing expertise in software development, system integration and SAP, and Maintenance supplying business process knowledge, a successful collaboration with a strong focus on understanding the needs of end users was forged.
"The project team has always been very committed to finding simple and effective solutions for end-users," says Wade Reynolds, North Rankin Complex (NRC) maintenance supervisor.
"From Chris visiting NRC pre-project to talk through what the apps will look like and how they will work, to frequent face-to-face meetings over Skype, the team has been able to action our suggestions for improvement within small timeframes.
"Working in this way we've been able to roll out something of this magnitude successfully and thoughtfully. We look forward to further efficiencies with the addition of more apps."
Using the latest cloud-based software development technology and leveraging high levels of automation in Digital's newly established Veloc'it cloud computing platform, the team has delivered a secure and quality product.
To date, the team has developed two SMART Apps: Technician Tool Time (also known as T3) and Fix-It both compatible with personal computers, SmartPhones and tablets.
Site-based workers use T3 to record their tool time to assist in the identification/elimination of waste during their working day. Fix-It simplifies the creation of corrective maintenance requests.
Ragan Stonier, general manager of Maintenance, says the two apps can significantly improve productivity.
The next app, 2DO, will allow work order execution and close out to be more efficiently conducted in the field.
"It will bring the frontline workforce into alignment with the paperless way of working at Mia Yellagonga," notes Tyrone White, the SMART Apps project sponsor.
"The SMART Apps team is ticking every box in the innovate, collaborate, accelerate mantra. They innovate by bringing new and improved solutions; collaborate by working across functions and assets; and accelerate by aligning priorities to business goals and implementing feedback to create a product that customers want."
Ragan hopes that all frontline staff – more than 2000 people – soon will be using SMART Apps.
Read the full Q4 2018 issue of Trunkline here.