Climate change challenge
As a leading Australian energy producer, Woodside is committed to being part of the transition to a lower carbon economy.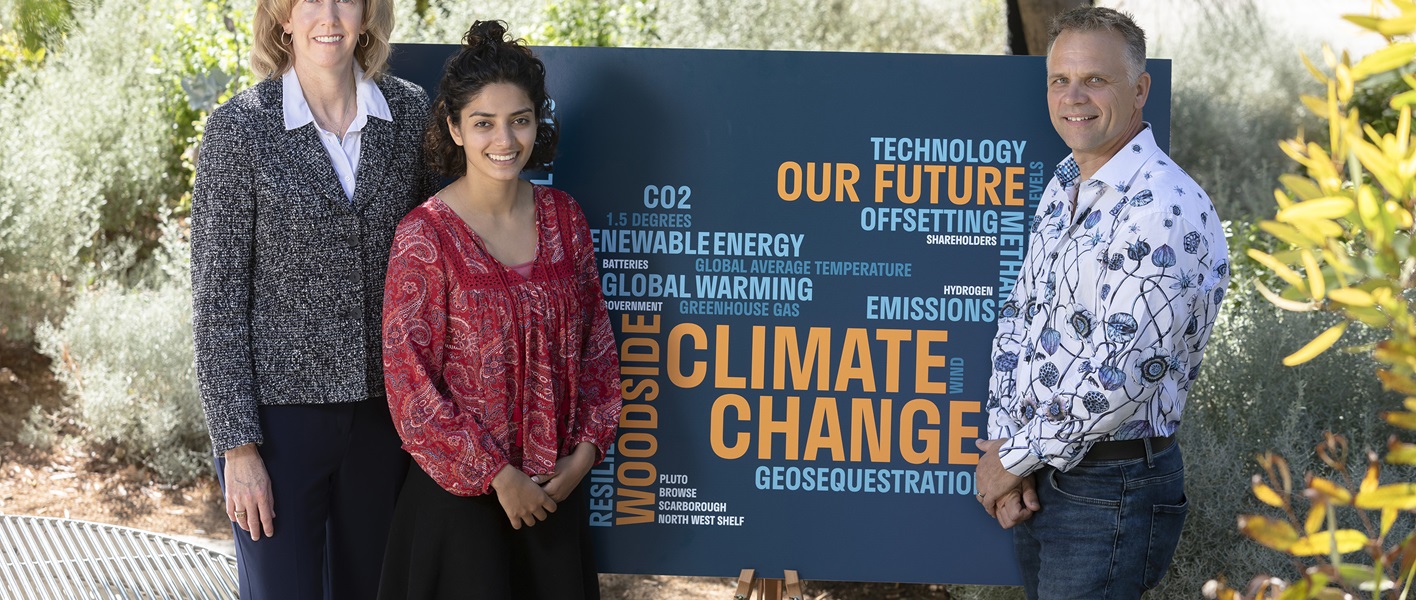 As a leading energy company, Woodside is committed to the global quest to provide clean, affordable and reliable energy. Our chief executive officer Peter Coleman stated in the 2018 sustainable development report: "Changes are underway in energy markets as the world tries to reduce emissions while extending access to modern energy.
"We think natural gas has a big role to play, as the cleanest burning fossil fuel and ideal partner for renewables. On the Burrup Peninsula, where sunlight is plentiful, we are developing options for integrating gas-fired and solar power to supply our operations."
Chief operations officer Meg O'Neill is Woodside's climate change risk owner.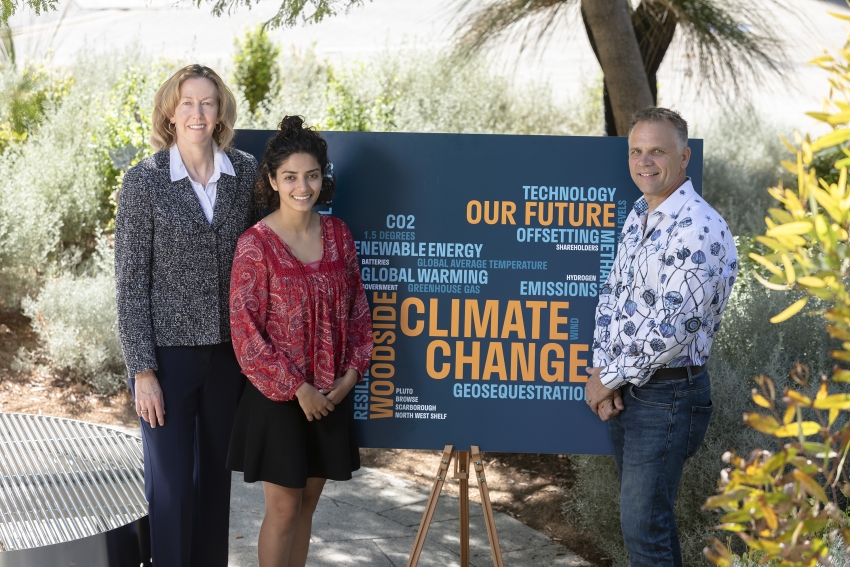 "We aim to manage the risks and opportunities presented by climate change in a structured way that complies with our climate change policy and climate change strategy," she explains."This means we must reduce our net emissions intensity by abating emissions across the value chain, through design-out, operate-out and offset.
"We also need to protect our assets by ensuring they are designed to withstand any potential physical impact of climate change and maintain and build a carbon-resilient portfolio by continuously and reliably supplying gas, keeping costs low and developing innovative new markets and energy technology."
Meg adds: "Last but not least, we must advocate for a competitive lower carbon economy by playing a positive role in the global response to climate change."
Senior climate change adviser Alex Hyndman points out that Woodside has a team examining the risks and opportunities surrounding climate change, including the areas of carbon management and new energy.
"We've also signed up to the World Bank's zero-routine flaring initiative and the methane guiding principles," Alex notes.
"The world has changed and Woodside is changing with it."
As part of those changes, Marc Senders became climate change improvement manager late last year.
Based in the Health, Safety, Environment and Quality (HSEQ) function, Marc has set up a structure to inform and guide our response to climate change.
He's also communicating internally and externally the extent of Woodside's work on climate change and explaining how this work is interconnected.
HSEQ vice president Deb Morrow says a cultural shift is required across the business.
"People need to think about climate change in a similar way as they regard health and safety or continuous improvement," Deb says.
"It must become part of Woodside's DNA."
Deb makes it clear she sees this new preparedness as being embraced throughout the business by the relevant divisions – whether improving our energy efficiency of existing assets (Operations), designing the most energy efficient new projects (Development), investing in offsetting and research for carbon and new energy (Technology) or creating markets for new customers (Marketing, Trading and Shipping).
In all cases, core skills are used to generate shareholder returns.
Marc says: "The future is bright for Woodside when we align ourselves with the new paradigm of a lower carbon future in energy provision.
"The level of Woodside's future success hinges on the ideas of clever, resourceful people and their collaboration both internally and externally."
And with many of the world's brightest young minds seeking to make a difference in the burgeoning clean energy sector, Woodside is positioning itself as an attractive employer.
Graduate climate change adviser Vinati Chaudhari says it is important for her to be proud of the company and the work it is doing in managing climate change.
"I joined Woodside because I saw it as more than just an oil and gas company," Vinati says.
"It was investing in robotics, developing its graduates by exposing them to serious issues and preparing itself for the future by taking climate change seriously."
Marc echoes this sentiment.
"Climate change is an emotive topic for some but we hope that by supplying the facts in a clear way, we can take the emotion out and set Woodside up for success – now and in the future."
Meg notes that managing climate change is being embraced by the Board, the executive committee (ExCom) and across the business, as the following breakouts illustrate.
Seeking offsets
Jayne Baird assumed her role as vice president carbon late last year, and her team manages and delivers Woodside's carbon offset portfolio.
"This requires us to investigate the options, nationally and internationally, to generate, acquire and trade in quality carbon offsets," she explains. "Reduction of our own emissions is one strategy, alongside acquisition of offsets."
Jayne says climate change is a truly global problem.
"The atmosphere doesn't care where or how the carbon is reduced, so long as it is," she says.
"If we are serious about decarbonisation, we also need to be serious about doing it efficiently.
"Offsets not only do this, but they also create co-benefits such as biodiversity and regional employment opportunities as well as new economic opportunities – national and international."
Carbon capture
Solomon Faka assumed the role of technology carbon program manager in January, and became responsible for managing technology developments in carbon capture, conversion and storage.
"The focus in carbon capture is to develop technologies with a lower cost and energy consumption," Solomon explains.
"For conversion, the emphasis is on development of technologies for conversion of CO2 into valuable products – technologies which will allow a more productive use of CO2 than merely storing it in a reservoir."
Solomon's work is supporting the new carbon business led by Jayne Baird.
"Ultimately, the program's aim is to build for Woodside a carbon-resilient portfolio through investments in new opportunities and technologies," he says.
Solomon says he's excited about working with our FutureLab partners at Curtin University, the University of Western Australia and Monash University (and others) in uncovering them.
Energy efficiency
Australia optimisation manager Ryan Conway is responsible for improving Woodside's energy efficiency by 5% by next year, compared to our baseline prior to 2016.
"To achieve that target, we need to identify and implement many additional work-force-led optimisation opportunities in our operations," he notes.
Ryan says improving our energy efficiency can be achieved by reducing both fuel usage and flaring; by managing leaks and venting; and by pushing the boundaries of outstanding production.
"Bottom-up" innovations, he says, reflect a growing awareness and focus on energy efficiency.
And they complement step-change improvements being considered as part of new investment opportunities and life extension works.
In 2018, we delivered a total of nine energy-efficient improvements across our operated asset portfolio.
These included increasing the operating pressure of the Pluto LNG processing train, increasing production for no extra energy input; and turning off a compressor at KGP's domestic gas facilities when energy demand is low, saving more than 1000 tonnes of fuel per month when applied.
Read the full Q1 2019 issue of Trunkline here.