Building on the art connection
The State Theatre of WA in Perth is a long way from home for signature artist Joylene Warrie, but that is where her signature piece Python Pool hung in this year's Ngurra Nyingu Art Exhibition.
Joylene started painting at the age of 13 at Cossack in the Pilbara, before moving to the Cheeditha Art Group.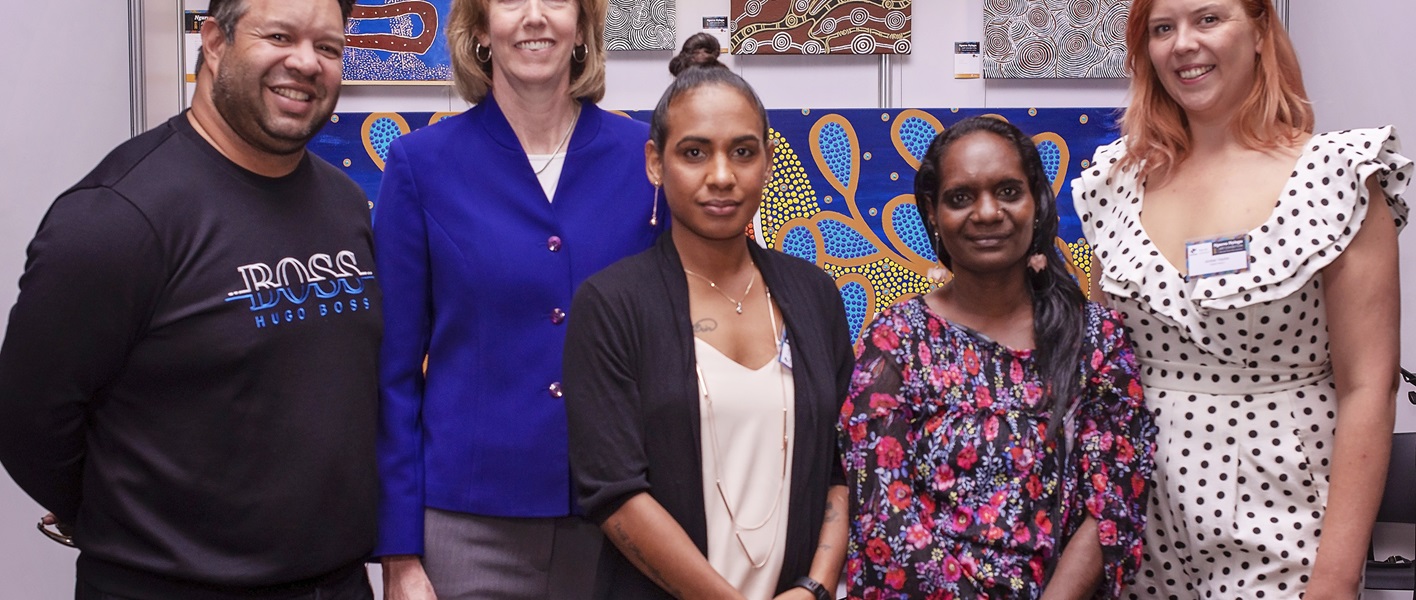 Her art is inspired by the landscape combining traditional brushwork with leaves and skewers to complete her work. Python Pool has been proudly purchased by Woodside and will be on display in our new Roebourne office (see page 24).
Joylene says: "When I found out I was to be the signature artist I was emotional, excited and really happy that my art was selected."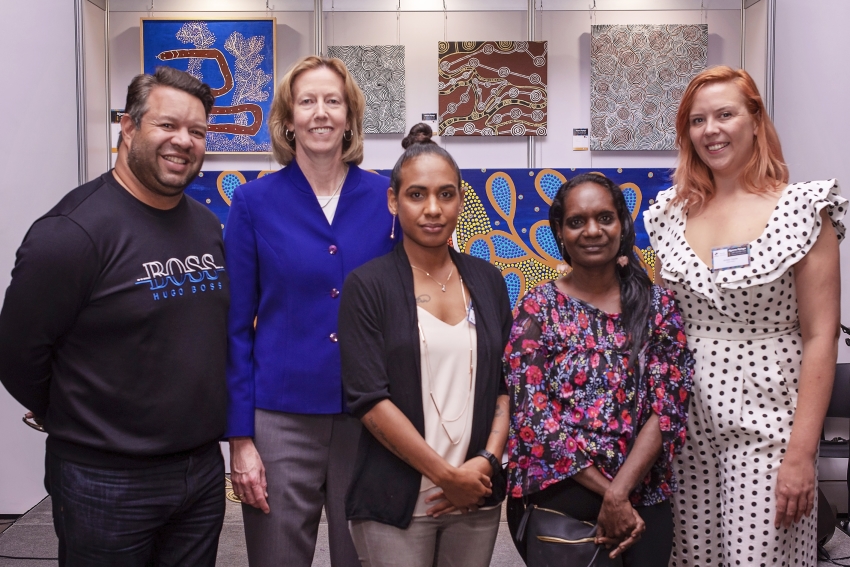 She says a highlight of the opening was being complimented by our CEO Peter Coleman and talking with him about her painting.
Joylene was one of 50 artists who were showcased in the foyer of the State Theatre Company in January this year.
The change in venue was the idea of Shanine Ryan, senior Corporate Affairs adviser, and it became a reality with the support of Gemma Rapson, Corporate Affairs manager social investment and Ryan Felton, Corporate Affairs adviser communities.
Moving to the venue had many positive benefits, explains Ryan.
"It was a great success all round," he says.
"It allowed greater exposure for the artists with longer opening hours and drawing from a more diverse audience than we saw when it was held in the foyer of the Plaza. It has helped forge closer ties between our partnership with Fringe and the Indigenous artists."
And the figures back him up. More people visited the exhibition than in previous years, giving greater exposure to emerging artists.
Amber Hasler, FRINGE WORLD festival director, opened the exhibition.
"The visual arts program at FRINGE WORLD continues to grow and we are so pleased to have the Ngurra Nyingu exhibition presented as part of the 2019 festival," Amber said.
"With Woodside's support we are able to shine the light on our WA artists."
Read the full Q1 2019 issue of Trunkline here.