Trees are green
With Greening Australia, Woodside has begun an ambitious tree-planting program which aims to improve biodiversity, create carbon offsets and diversify land-sector revenues.
Woodside has begun an ambitious tree-planting program in Western Australia's Great Southern region, with the first seeds sown in May.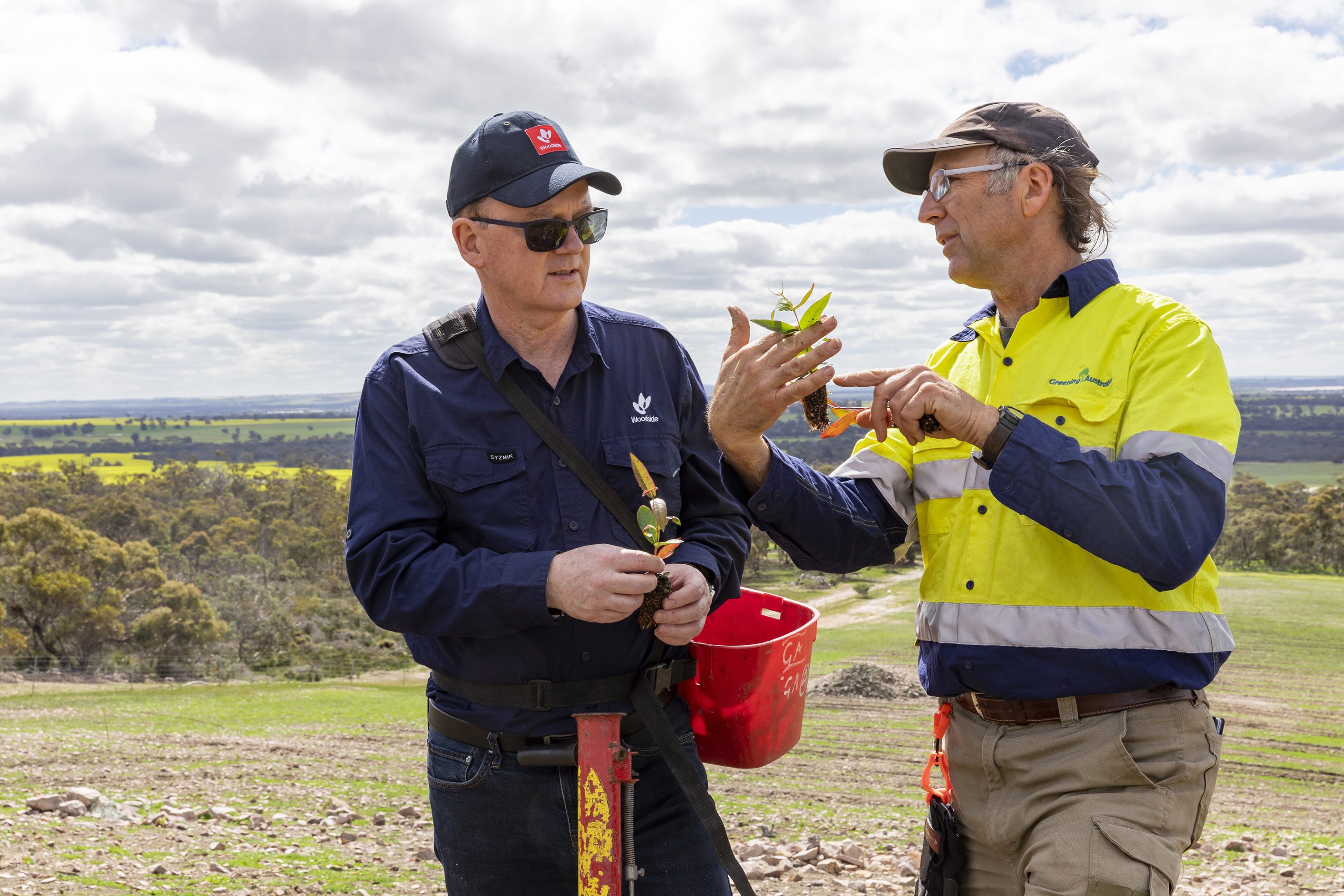 As part of the company's far-reaching strategy to counter climate change, this program comprises the planting of more than 3.6 million native trees and shrubs between now and July 2021.
"Effectively addressing climate change is a global effort and Woodside needs to do its part," declares the company's new Senior Vice President Climate Tom Ridsdill-Smith.
"Reforestation projects are an important element of our approach as they directly remove CO2 from the atmosphere."
The tree-planting program is part of an agreement between Woodside and Greening Australia, an environmental enterprise with more than 37 years' experience in conservation and restoration.
Under the first phase of the agreement, trees will be planted on up to 5000ha of farm land in WA, in a sustainable and ecologically responsible manner.
Woodside and Greening Australia will also assess the environmental and economic viability of large-scale opportunities to create carbon offsets, improve biodiversity and diversify land-sector revenues across Australia.
Two sites have been earmarked for planting in the Great Southern region of WA: a 1600ha site about 100km south of Lake Grace called Cowcher; and a 400ha site called Sukey Hill just east of Cranbrook.
Chief Executive Officer (CEO) Peter Coleman visited Sukey Hill in September to see the program's progress.
Woodside recently purchased an additional two properties in the Wheatbelt – properties called Manalling Springs and Windy Lane totalling 3694ha.
Gareth Parry, Origination Adviser Carbon, says a mixture of native trees and shrubs will be planted.
"It has been calculated that the program will sequester approximately 700,000 tonnes of carbon dioxide over the next 25 years," Gareth notes.
Brendan Foran, CEO of Greening Australia, says: "Everything we do is underpinned by science, with a focus on restoring Australian landscapes to achieve carbon sequestration and positive biodiversity outcomes.
"In collaboration with Woodside, we're able to deliver these landscape-scale native tree planting projects to help maximise the benefits that flow to communities, the economy and the environment."
The reforestation of cleared landscapes will increase the biology and ecology through restored landscape linkages and promote habitat creation and protection of fauna.
Woodside's strategy to combat climate change includes limiting the company's net emissions; managing physical climate change impacts; advocating for a competitive lower carbon economy; and maintaining and building a carbon-resilient portfolio.
Gareth points out: "This partnership with Greening Australia provides us with an opportunity to generate carbon offsets in Australia and support growth in the capacity and capability of Australia's carbon farming industry.
"Employment opportunities will also be created, and the program will stimulate the purchase of local goods and services."
In addition to our projects with Greening Australia, we are also looking at other opportunities including land-based solutions for carbon sequestration through savanna fire management and human-induced land restoration – both in Australia and internationally.
Savanna fire management, which incorporates customary indigenous practices, is an avoidance method which credits activities that reduce the emission of greenhouse gases from fire in savannas in northern Australia, through a reduction in the frequency and extent of late dry season fires.
Human-induced regeneration and environmental planting aim to restore forest cover to degraded landscapes by encouraging regrowth and planting Australian native tree species indigenous to that landscape.
Jayne Baird, Vice President Carbon, joined Gareth on a site visit in July to see Greening Australia in action as they were completing the tree-planting program at Sukey Hill.
"Woodside is serious about decarbonisation and about achieving decarbonisation efficiently," says Jayne.
"Offsets like tree planting not only achieve this, but also create short- and long-term economic opportunities in regional areas."
Woodside already enjoys a strong record in offsetting emissions associated with reservoir gas from the Pluto Project, with more than $100 million invested in tree planting since 2000.
And in 2018 an internal group was established at Woodside, dedicated to generating and acquiring quality offsets.
Tom says: "This is a great example of what can be achieved by working with organisations with expertise and experience."
Read the full Q3 2020 issue of Trunkline here.